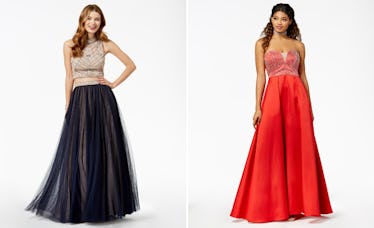 'Say Yes To The Dress' Covers Prom Season With Celeb-Level Gowns & Accessories
Macy's
Before your wedding, your prom dress is probably the most important gown you'll pick out. (Or, at least, that's how many people feel.) It can involve weeks of searching for the right one and sometimes, a hefty amount of cash — until now. Say Yes To The Prom dresses and accessories at Macy's are your one-stop shop for all things prom.
Say Yes To The Dress is a TLC show about brides picking out their wedding gowns for their big day, but for many women, prom is just as big of a deal. Dresses can easily reach the thousands (the most expensive prom dress to date cost $14,000), but not everyone can or should feel pressured to dole out such a big chunk of change. The brilliant minds over at TLC agree with me on that and Discovery Consumer Products teamed up with Macy's to release a new collection of dresses for 2018, called Say Yes To The Prom.
The dresses are sold online and at over 500 Macy's stores across the country. Every dress is under $200, and most go up to a size 16, so your prom look will be on fleek without blowing your budget. The collection also includes jewelry, so you can add even more sparkle to your big night. Now all you have to worry about is which promposal to say yes to.
Embellished Strappy-Back Gown, $189, Macys
This black tulle gown is rocker chic and I want to go back in time and wear it to my own prom.
Hematite-Tone Crystal And Jet Stone Flower Drop Earrings, $25, Macys
I'd wear that black dress with these sparkly black earrings.
Hematite-Tone Crystal and Stone Multi-Row Stretch Bracelet, $25, Macys
All of the jewelry from this line can be worn long after prom, so pick some pieces you can mix and match later.
Embellished Strapless Gown, $129, Macys
All eyes will be on you in this red gown. The rhinestoned bodice gives it some built-in bling.
Silver-Tone Two Piece Set Crystal Flower Hair Pins, $20, Macys
But some extra sparkle never hurt anyone, so style your hair back with these bejeweled pins.
Lace-Up Lace Gown, $149, Macys
If the big ballgowns aren't your vibe, this lacy column dress is sheer genius.
Jeweled Contrast Side-Slit Gown, $159, Macys
Whoa, this dress is sophisticated AF. I can practically envision it on the Oscars red carpet.
Gold-Tone Crystal & Imitation Pearl Multi-Row Stretch Bracelet, $35, Macys
Nothing says true sophistication like pearls.
Embellished Tulle-Underlay Gown, $149, Macys
You'll look like a Greek goddess in this gown and your date won't know what hit 'em.
Rose Gold-Tone Crystal Intertwined Multi-Row Choker Necklace, $18, Macys
Rhinestone prom choker FTW. Honestly, I'd wear this to brunch with a sweatshirt the next day, too.
Embellished Strappy-Back Satin Gown, $149, Macys
This dress has minimal embellishment but the metallic fabric speaks, er, shines for itself. And it has pockets!
Embellished Two-Piece Gown, $159, Macys
This millennial pink two piece gown has some serious princess vibes.
Silver-Tone Crystal And Imitation Pearl Flower Hair Piece
Silver-Tone Crystal and Imitation Pearl Flower Hair Piece, $25, Macys
And every princess needs a tiara.
Embellished Contrast Two-Piece Gown, $169, Macys
Two piece gowns are definitely a prom trend for 2018. Post prom, I bet you could repurpose the top with some black jeans for your next girl's night out.
Sequined Grid Popover Gown, $149, Macys
My favorite dress in the collection is this faux two-piece gown. It's black (my favorite color), it's got sequins (my other favorite color), and it'll give you the look of a two piece without actually baring any skin.
The idea behind this dress line is actually even bigger than just selling looks. The collection is a part of Discovery's (TLC's parent company) bigger Say Yes To The Prom initiative. It began as a simple dress drive and is now a nationwide string of events providing prom dress (and tuxedo) shopping as well as educational opportunities for deserving students. This year, Discovery partnered with Seventeen and awarded not only prom gear but a prom itself to a school in need. The winner was Washington Heights' Inwood Academy for Leadership Charter School located in New York City. Tune in and follow along with the school's dazzling prom experience during the Say Yes To The Prom special (feature Monte Durham from Say Yes To The Dress: Atlanta) airing Saturday, Mar. 24 at 9 p.m. ET on TLC.
Go forth and find your dress so you can get your groove on!