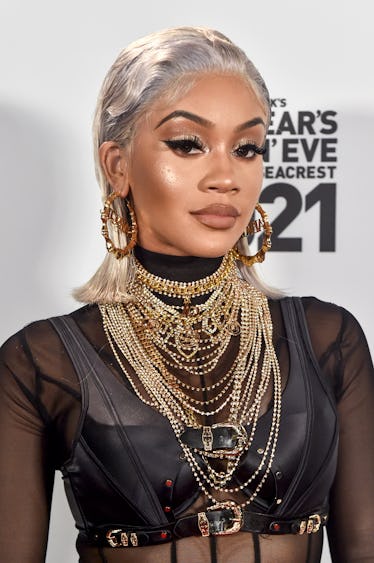 Saweetie Broke Her Silence On Her Fight With Quavo In A Sad Statement
Alberto E. Rodriguez/Getty Images Entertainment/Getty Images
On March 27, TMZ published disturbing surveillance footage that appears to show Saweetie and Quavo engaged in a physical fight inside an elevator. Neither ex addressed the video immediately, but on April 1, the "ICY GRL" rapper broke her silence. In a statement obtained by Page Six, Saweetie said her fight with Quavo was "unfortunate" and asked for privacy.
"This unfortunate incident happened a year ago, while we have reconciled since then and moved past this particular disagreement, there were simply too many other hurdles to overcome in our relationship and we have both since moved on," she said. "I kindly ask that everyone respect my privacy during this time."
Quavo has yet to comment publicly on the video or his ex's statement. (Elite Daily reached out to a rep for the Migos rapper and did not hear back in time for publication.)
The altercation reportedly took place in 2020 in an apartment complex in North Hollywood, California, where Saweetie was renting a home, according to TMZ. In the footage, Saweetie appears to attempt to hit Quavo, who drops an orange Call of Duty case. The former couple appears to scuffle over it, and Saweetie is knocked to the ground. She does not appear to move, even as the elevator doors open to a bystander.
According to an April 1 report from TMZ, in response to the footage, the Los Angeles Police Department opened an investigation into the incident to explore if domestic violence occurred. Per TMZ, the case will likely be turned over to the City Attorney if charges can be filed.
On March 19, Saweetie confirmed she and Quavo had broken up, and implied her ex hadn't been faithful to her. "I'm single," she tweeted. "I've endured too much betrayal and hurt behind the scenes for a false narrative to be circulating that degrades my character. Presents don't band aid scars and the love isn't real when the intimacy is given to other women."
The same day, Quavo seemingly addressed the split on Twitter. "I had love for you and disappointed you did all that. You are not the woman I thought you were. I wish you nothing but the best," he wrote.
In November 2020, rumors swirled that the Migos rapper was allegedly cheating on his girlfriend with Reginae Carter, Lil Wayne's daughter, but all three parties denied anything went down.
The hip-hop power couple began dating in 2018.
If you or someone you know is experiencing domestic abuse, call 911 or the National Domestic Violence Hotline at 1(800) 799-SAFE (7233) or visit thehotline.org.