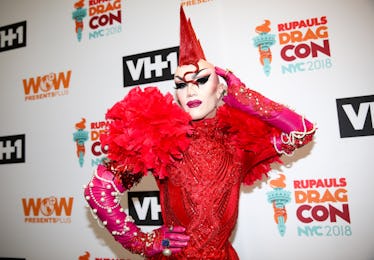 Sasha Velour From 'Drag Race' Has An Inspiring Message About Representation– EXCLUSIVE
The Macfarlanes // Getty Images
You might recognize Sasha Velour as the winner of RuPaul's Drag Race season 9, but this queen's reign is far from over. Velour is a Brooklyn-based drag queen who is known for her stunning designs and unconventional performances. After passing the crown to Drag Race Season 10 winner, Aquaria, her influence has cemented her as a leading voice of the LGBTQ community. Most recently, Velour is sharing an important message about representation.
Velour's frequent use of drag "herstory" to inform performances reflects her roots in academia – she is a Vassar College graduate and a Fulbright scholar. Her research took her to Moscow to study queer activism in 2010, just before landing a spot on Drag Race. Velour's smarts and political awareness helped her secure the Drag Race crown–even gaining praise for her portrayal of androgynous actress Marlene Dietrich during the season's 'Snatch Game' challenge.
Speaking to Elite Daily at RuPaul's DragCon NYC, Velour opens up about LGBTQ representation as a form of resistance: "Drag says that the queer community matters and deserves a voice. The queer community already involves immigrants and trans people and women and people of color, so that's already such a strong statement in the face of our current administration and in the face of American social conservatism that doesn't want to see those people anywhere."
Velour recently collaborated with fashion label Opening Ceremony to curate their "The Gift Of Showz" New York Fashion Week show. Velour sent more than 40 LGBTQ performers, models, and artists down the runway with celebrities with the likes of Nicki Minaj and Troye Sivan watching from the front row. This type of representation in mainstream culture is only increasing, and it is clear that amplifying the voices of the marginalized is more important than ever.
Velour details the importance of representation, saying: "Fashion influencers and celebrities like Nicki Minaj and Troye Sivan were in the audience cheering for the people that I love and who I have believed for a long time represent fashion, so I think that was so exciting to be given an opportunity to shift the conversation to people who've been making and innovating in fashion for a long time and don't always get that recognition or that platform."
Velour goes on to explain how drag performers activate their communities in order to have their voices heard, saying: "We're community organizers. Step one, just to get people to show up and give us their money to lip sync around the stage, but step two being the kind of conversations we have in those spaces about getting out, registering to vote, voting, standing up and fighting for what you believe in."
During Velour's season, Drag Race was lauded for featuring its first openly-transgender woman, Peppermint. RuPaul was later quoted in an interview with The Guardian as saying he would "probably not" allow someone who has made their transition public to compete on the show.
RuPaul later issued an apology, saying he has learned from those around him and committed to screening contestants solely based on their charisma, uniqueness, nerve, and talent.
These comments garnered backlash from many former Drag Race contestants, and Velour stood with the trans community, tweeting their place in the drag community is something she will "fight [her] entire life to protect and uplift."
Velour has always been a champion for the LGBTQ and nonbinary community – long before her stint on Drag Race. She serves as co-founder and artistic director for Velour: The Drag Magazine, which seeks to celebrate the art of drag through poetry, and fine art, and is published bi-annually. For more, you can find Velour at her monthly show, NIGHTGOWNS, which regularly features a different cast of drag queens, kings, and non-binary performers.