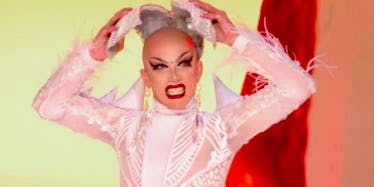 Sasha Velour Reveals Behind-The-Scenes Details Of 'RuPaul's Drag Race' – EXCLUSIVE
VH1/YouTube
Illustrator, activist, winner of RuPaul's Drag Race Season 9; at just 30 years old, it doesn't seem like there's much Sasha Velour can't do. Indeed, between touring the country with her Season 9 cast mates, hosting her own Brooklyn-based drag show "Nightgowns," and launching the third issue of her magazine Velour: The Drag Magazine, it's been a nonstop summer for Miss Velour, which she'll cap off this weekend — 9/9-9/10 — with an appearance at the Javits Center for the inaugural RuPaul's DragCon NYC event. As busy as she is, Sasha's schedule is only a testament to her commitment to art, which is why Elite Daily jumped at the opportunity to interview Sasha Velour on all things Drag Race ahead of her upcoming DragCon gig.
Naturally, as an avid enthusiast (read: borderline unstable fanatic) of RuPaul's Drag Race, I had several burning questions for the Season 9 winner about the behind-the-scenes of the show, who she thinks the most constructive judges are, and who she'd like to see compete on Season 10 of Drag Race. That's not all, though; the Brooklyn queen and I also talked about her relationships with other queens from Drag Race herstory and who she hopes to see on All Stars 3 come January.
Before we got into any of that, though, I asked Sasha what the most surprising aspect of competing on Drag Race was for her. Without any hesitation, she told me,
The friendships, because you enter this 'competition' mindset, and I expected to be intimidated by the other queens, to be competitive with the other queens, but I didn't really predict that I'd become lifelong friends with these queens. It's amazing what the stress of that experience does to bring people really closer together, and I'm thankful to have friends in the drag community who do drag that's so different from mine and so different from each others'. 
Sasha continued to rave about her talented Drag Race costars, even mentioning how she still keeps close ties with many of the girls from Season 9, especially her "bestie from the show," Shea Couleé, and this past season's runner-up, Miss Peppermint. In keeping with the theme of Season 9 talent, I asked Sasha (since she famously never had to lip sync for her life during her season) if there were any girls in particular from her season she wishes she had the chance to battle on the runway. After thinking for a second, she revealed she's always wanted to lip sync with her fellow Brooklyn queen, Aja; the queen told me,
I have always dreamt of lip syncing against Aja because we have very different styles of Brooklyn lip sync, and I kinda thought that that would happen inevitably... the two Brooklyn girls face off.
OK, now I can't stop thinking about this. What would they wear? What would they lip sync to?! Think of the death drops and, oh good lord, the reveals... it's all just too f*cking much (copyright Laganja) for me to think about. Sasha only heightened my excitement, though, when she followed up with, "Maybe we'll have to stage it some time because she's incredible." Uh, yeah, I'd say so.
Moving away from the Season 9 girls, I asked Sasha if there is anyone she'd like to see compete on the next season of RuPaul's Drag Race. Almost immediately — and with audible excitement —she told me "Oh yeah," before naming several sickening queens from Brooklyn. She said,
We have a bunch of drag performers in Brooklyn; I'm actually not sure who even has auditioned, but Merrie Cherry, Untitled Queen, Patti Spliff... those are some of my favorite Brooklyn drag artists, and I think they would really continue to shake up the show a little bit.
I followed up by asking if there were any queens she'd like to see shake up the show on the upcoming season of All Stars 3. That's when she told me,
I would love to see Aja, because I've known her for a long time and she's always been one of my favorite drag queens and some of her amazingness didn't really come through on season 9... and the other person is Ongina — the original bald queen — who just continues to be so inspiring, doing such great drag, and she's also politically involved in AIDS awareness and research, and she has a strong political voice when we really need it.
Obviously, we'd love to see either or both back on our TV screens, so let's hope Mama Ru hooks us up come January. Speaking of Mama Ru, though, Sasha and I spoke next about which judges on the show were the most helpful during the competition. I asked Miss Velour which of the judges gives the most constructive critiques and she told me with absolute certainty, "Oh, easily Michelle Visage, always." Sasha continued to gush about Michelle, saying,
Michelle always says exactly what she thinks, and that is really what we need; we're desperate for feedback when we're standing up there, and she really gives it. Sometimes it's a little confrontational, but it's always from a place of love and she has really good taste, she's usually right.
Moving on from the judges, we talked about what it's really like to be a contestant on Drag Race. Of course, at home, we see all the drama of the Werk Room and all the glitz and glam of the runway, but as a contestant, it's a bit different. We talked about the behind-the-scenes stuff that we don't see at home, and, after revealing "there's not that much that happens off-camera," Sasha mentioned a few fun facts about the Werk Room; she said,
All the rooms on Drag Race are freezing cold... we're constantly freezing, which explains some of the fashion choices we make out of drag. And the other thing is that we all, before we enter the work room every day, there's usually a lot — like maybe 20 or 30 minutes — just outside that entrance waiting,  so every out of drag entrance into the workroom, we usually have sometimes planned what we're gonna do when we walk in.
Obviously Sasha is nothing if not a planner, and with a schedule like hers, I can't say I blame her. When I asked Sasha what she has planned next, she told me she hopes to take her drag show "Nightgowns" on the road and tour the country with different, amazing queens. Yes, please. In the meantime, you can catch her at DragCon in NYC, or you can just relive her iconic, crowd-pleasing lip sync to "So Emotional" over and over and over again.