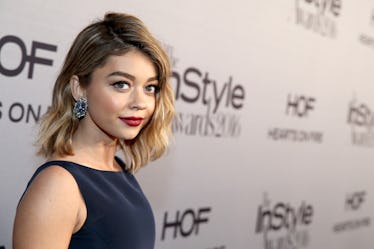 Sarah Hyland Basically Confirmed She's Dating Wells Adams On Instagram & It's Adorable
Jonathan Leibson/Getty Images Entertainment/Getty Images
While Taylor Swift fans are eagerly anticipating the release of her new album, Reputation, one famous fan is literally living out one of the pop star's lyrics. Sarah Hyland's "W" necklace for rumored boyfriend Wells Adams is giving me life because it low-key confirms the two are an item. Well played, Sarah.
Her jewelry choice is, of course, inspired by Swift's song "Call It What You Want," which is all about her boyfriend, Joe Alwyn, and includes these lyrics:
Cause my baby's fit like a daydream, walking with his head down, I'm the one he's walking to. So, call it what you want yeah, call it what you want to. My baby's fly like a jet stream, high above the whole scene, loves me like I'm brand new. So, call it what you want yeah, call it what you want to.
Hyland decided to follow Swift's lead with this lyric, however, wearing her rumored BF's initial on a chain around her neck:
I want to wear his initial on a chain around my neck, not because he owns me, but 'cause he really knows me, which is more than they can say. I recall late November, holding my breath, slowly I said, "You don't need to save me, but would you run away with me?" "Yes."
Of course, the rumors about Hyland dating the Bachelor in Paradise star have been swirling lately, as the two have posted adorable photos together on their Instagram accounts, including their pretty epic Stranger Things couples costume:
This is the second time Hyland has leaned on Swift's song "Call It What You Want." When the song was first released, Hyland posted a video of herself singing along to the song and it seemed like she definitely had Adams on the brain:
Now onto that piece of jewelry. Hyland shared the pic of her wearing the initial of Adams' first name around her neck, tagging Adams as well, just in case it wasn't all totally clear. She captioned the pic, which she poses in with actress Ashley Newbrough (who is wearing an "M" initial for her boyfriend, actor Matt Shively): "Call it what you want #notbecauseheownsme."
All together now: Awww!
As for how cute it is that Hyland is dating Adams, look no further than this old tweet from the Modern Family star that's so hilarious now. Hyland tweeted in 2012: "Those who think I have a thing for any of the guys on The Bachelorette, think again and stop reading into things I say! I'm simply a fan."
The actress retweeted the old tweet and noted: ""Whoever went five years back in time to find this, thank you. Havin a real good laugh at the moment."
Their too-cute relationship has been playing out on social media; their Halloween costumes were total #couplegoals and Hyland shared this hilarious snap, captioning it: "He puts up with me."
Adams posted a sweeter, more romantic pic of the two of them together as they hugged and looked at each other smiling, with a backdrop of twinkling lights. He captioned it: ""Back lit AF."
Hyland, who is definitely having a good time with her new man, is an unapologetic Swift fan, taking to Twitter recently to defend the pop star. After Life & Style tweeted a link to a story, noting: "DID SHE OR DIDN'T SHE?! ‪#TaylorSwift is sparking ‪#plasticsurgery rumors," Hyland fired back with: "CAN YOU F*CKING STOP?!?! Let's empower women instead of judging their looks. There's more to us than that. Guess you can't teach stupid..."
Hyland and Adams are totally the "it" couple to watch right now, right?
Check out the entire Gen Why series and other videos on Facebook and the Bustle app across Apple TV, Roku, and Amazon Fire TV.