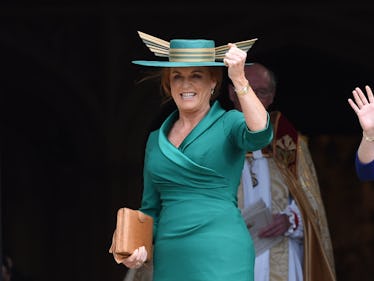 Princess Eugenie's Mom Says Her Proudest Wedding Moment Was Not What You'd Expect
WPA Pool/Getty Images Entertainment/Getty Images
I'm not married, I don't have children, and I probably won't be married or have children any time soon. That being said, I have to imagine the only joy that could come close to having your own wedding would be seeing your children get married. A few royal parents across the pond have had this unique pleasure of watching their children tie the knot and, most recently, one royal mom shared her thoughts on her daughter's nuptials. So, what was Sarah Ferguson's favorite part of Princess Eugenie's wedding? Well, break out a tissue box because it's adorable and it's definitely gonna make you weepy.
"My proudest moment was watching Eugenie standing tall, very proud to show her scoliosis scar in her low-backed dress," the Duchess of York, 59, told The Daily Mail in an interview, published on Friday, Nov. 9. "I'd gone to all the fittings and sat there beaming with delight, and because there was no veil it was a very strong statement."
She continued: "We rang St George's Chapel to make sure there wasn't a special rule specifying veils must be worn, but there wasn't and Eugenie just wanted to be herself. … The tiara danced to her. She was just so radiant. She said, 'Mum, I thought I was going to get nerves,' but she didn't."
Ugh, so cute.
For those of you who may not be in the loop about Princess Eugenie's condition, the 28-year-old granddaughter of Queen Elizabeth wrote in an essay for the Royal National Orthopaedic Hospital that she was diagnosed at just 12 years old. "My surgeons inserted 8-inch titanium rods into each side of my spine and 1.5-half inch screws at the top of my neck," Princess Eugenie wrote in the essay, published on the RNOH website earlier this year. "After three days in intensive care, I spent a week on a ward and six days in a wheelchair, but I was walking again after that."
I'm not even her mom and I'm so proud of her for proudly showing her scar off when she tied the knot with her now-hubby Jack Brooksbank at St George's Chapel at Windsor Castle in the U.K. on Oct. 12. Yep, that's right. Like a true royal, she did get married at the same place as Prince Harry and Meghan Markle.
Though the wedding really was excellent in many ways, Ferguson did admit that she couldn't help but miss one particular person at her daughter's wedding: her late former sister-in-law Princess Diana.
"I thought of absent friends and family; of Diana — but she's with me all the time," she told The Daily Mail. "What I miss most is her tinkling laughter."
Ferguson continued to highlight Diana's importance in her life. "Diana was my best friend and the funniest person I knew," she told the publication. "She had such timing and wit. It was a total joy to be with her because we just laughed and enjoyed life so much, and I know she would have loved the wedding."
Luckily, Diana's sons, Prince Harry and Prince William were both able to be there at their cousin's wedding along with their wives, Kate and Meghan.
Congrats to Princess Eugenie on her recent nuptials and cheers to her rocking her scars like an absolute champ!