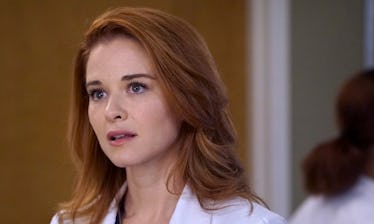 Sarah Drew Posted Behind-The-Scenes Photos From 'Grey's Anatomy' & I'm Bawling
ABC
Another season, another Grey's Anatomy character to mourn. Excuse me while I get into the fetal position because April Kepner is about to officially no longer be a part of the Grey Sloan Memorial Hospital fam, although the character will live on in our medical drama-loving hearts forever. To commemorate her exit, the actress behind April decided to share some on-set memories and boy will they make you all kinds of sentimental. Sarah Drew's Grey's Anatomy behind-the-scenes photos are just what fans need right now if they're feeling the sting of yet another cast member loss. Spoilers ahead if you're not caught up on Grey's and you don't want to know April's fate.
Nope — April didn't bite the dust in Thursday's episode — but she almost did 'cause this is Grey's and the possibility of death is always dangled. When are these people not at risk of something horrific? Anyhoo, she survived after practically flatlining and all was right in the world... until the audience remembered she's on the verge of never being seen on the TV show again anyway. Lucky for them, Sarah Drew was kind enough to take to social media to take viewers on a behind-the-scenes journey of her final days on the Grey's set. Not only are there moving snaps of her hugging her co-stars goodbye, she wrote some very sweet words about what the show meant to her and the gratitude she had for the cast and crew.
A portion of one of Drew's captions on a smiley group pic read:
Here are some of my favorite people on the planet. While shooting this scene my heart was so full of joy and sadness at the same time that it was almost unbearable. As I was looking up at all of these beautiful faces, smiling down at me with so much love, happy to see April alive and well, I was overcome with sadness about the reality of not being with all of these people in the same place in the same way ever again. But, I was ALSO overcome with the joy of having had the opportunity in my life to know such gorgeous people whom I have loved, who have loved me so well for 9 years.
She also posted a photo of her and Chandra Wilson, who plays Miranda Bailey, as they embraced after filming their final scene together. "Chandra has been a true friend and mentor to me, as an actor, a director and a human. I admire her strength of character and her determination to choose joy in any and all circumstances. I want to be like her when I grow up," she gushed.
Now, try to hold back the tears. He she is with Jesse Williams.
Back in March, it was reported that longtime Grey's series regulars Sarah Drew and Jessica Capshaw would be departing the show following its 14th season. "As writers, our job is to follow the stories where they want to go and sometimes that means saying goodbye to characters we love," showrunner Krista Vernoff clarified of the decision. Following the announcement, Drew made a statement on Twitter to express her thoughts and thank viewers for their love.
Ellen Pompeo aka Meredith Grey weighed in on the shocking news, shutting down rumors that the shake-up was related to her salary increase.
"I mean, I'm not involved in these kind of decisions, however, there's a few problems that you encounter doing a show for 14 seasons. One of them is the writers have a really hard time creatively thinking up new stories for all these characters," she explained to Ellen.
April, you'll be missed. At least there are re-runs, photos, and this keepsake mug to recall the good times.