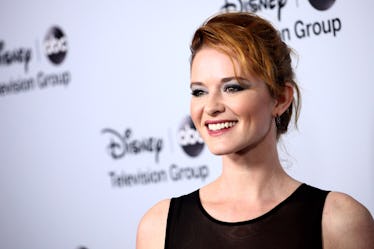 Sarah Drew Really Wants 'Grey's Anatomy' Fans To "Stop Attacking" Her Co-Star On Twitter
Tommaso Boddi/Getty Images Entertainment/Getty Images
There's no fandom as intense as Grey's Anatomy fandom (OK, maybe Game of Thrones is close). For many, Grey's Anatomy isn't just a regular show; it's a show that they've been deeply relating to for over a decade. Grey's fans take the fate of each character seriously, and that's especially true for April Kepner, the hospital's happy-go-lucky surgeon. Since ABC announced that Sarah Drew, who plays April, would be leaving after the Season 14 finale, fans have expressed their anger on Twitter, and unfortunately, Drew's co-star Kelly McCreary has taken the brunt of it. But enough is enough: Sarah Drew wants Grey's Anatomy fans to "stop attacking" Kelly McCreary on Twitter, because that's just not how people treat each other at Grey Sloan Memorial Hospital.
The drama started when McCreary's character, Maggie, started dating Jackson Avery (Jesse Williams), April's ex-husband. April and Jackson have a long history and share a daughter, Harriet, so many fans have been hoping they'd reconcile before April leaves at the end of Season 14 (more on that in a bit). But with Maggie in the way, the possibility of a Japril reunion is less likely, and fans are not having it.
Clearly, some fans have been taking their anger out at McCreary herself — are people forgetting that Maggie is a fictional character? — because Drew stepped in on Tuesday to put a stop to the mean tweets.
"I know these characters mean so much to you — believe me, they mean a lot to me, too — but I do not feel defended when you attack my friends," she wrote. She continued, "My beautiful, loving, loyal sister, Kelly, is a brilliant, fiercely talented team player who ALWAYS shows up and dedicates herself to the stories she is asked to tell. Please stop attacking her for doing her job." Props, Sarah, mad props. McCreary is doing a job, and if the writers want her character to romance Jackson, then she doesn't have much say in the matter. If fans are really upset, they should let their concerns be known to the producers and writers — but in a nice, constructive criticism sort of way. Can't we just all get along?
That being said, the team over at Grey's Anatomy isn't making it easy for fans to remain unemotional. For weeks, fans have speculated about how the show would write out April, but the Season 14, Episode 23 trailer hints that things won't end well for the fan-favorite doctor. In the promo for "Cold as Ice," fans see Owen call out April's name and then look down with a horrified expression, suggesting that she's lying unconscious somewhere on the ground. Later, these suspicions are confirmed when April is rushed into the hospital on a gurney with a breathing tube in her mouth, and things seem dire. "We're not going to lose her!" yells Meredith as she performs chest compressions.
Sure, it's possible that April comes out of this. But the second half of the teaser doesn't make that seem likely: the formerly calm Meredith breaks down when Alex asks her what's wrong, and in surgery, Jackson practically jumps on top of her when it seems like April has flatlined. When coupled with the depressing music (which is never a good thing in Grey's Anatomy), April's emergency visit to Grey Sloan Memorial seems like it could leave fans crying for years to come.
April's ending is looking bleaker by the second, but Ellen Pompeo assured fans that the producers are looking out for April and Arizona:
Yeah, these endings aren't tragic.
Hopefully, this means that April will make it out of this horrible incident alive. If not, Drew may have another fan uprising on her hands.
Grey's Anatomy returns on Thursday, May 10, at 8 p.m. ET on ABC. The Season 14 finale airs Thursday, May 17.