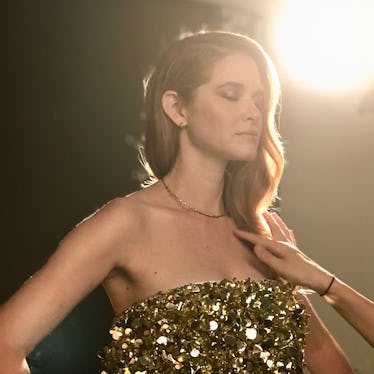 Sarah Drew May Be Done With 'Grey's Anatomy,' But The Best Is Just Beginning – EXCLUSIVE
Sarah Drew, known most recently as the beloved April Kepner on Grey's Anatomy, spent part of the morning after the show's Season 15 premiere standing at her kitchen island with her husband, Dr. Peter Lanfer, scrolling through Twitter and working through feelings of exclusion. Her 3-year-old daughter, Hannah, was eating breakfast at the kitchen table behind her. Suddenly, she got up and appeared at Drew's feet.
"I picked her up and she gave me a hug that must have lasted, like, five straight minutes," Drew joyfully tells me in an exclusive interview for Elite Daily. "And the whole time she was hugging me, she was stroking my hair, she was kissing my face, she was kissing my neck, she was stroking my arm… She didn't say anything. She just was this little angel empath who wanted to hold me in that moment."
There was, for sure, a lot of pain. I felt a lot of pain in the wake of getting let go.
It's no secret that the former Grey's Anatomy actress has experienced her fair share of struggles this year. In the fall of 2017, she was preparing to take on her next professional challenge: directing the Emmy-nominated web series Grey's Anatomy: B-Team. But nothing could brace her for being let go from the show she's considered her "work home" for the past nine years.
"There was, for sure, a lot of pain. I felt a lot of pain in the wake of getting let go," Drew says. But despite what many headlines will have you believe, Drew has come out on top. "There has been such brilliant beauty as a result and even in the middle of it," she tells me.
When a door slams, sometimes a window opens. After that hug from Hannah, Drew was overcome with gratitude that she gets to raise such an empathetic little girl (and her older brother Micah, 6), and that she has already been included in so many wonderful projects since her departure from Grey's.
For one, Drew executive produced and starred in the movie Indivisible, which heads to theaters on Oct. 26. The movie is based on the true story of Chaplain Darren Turner and his wife, Heather, working to save their marriage after he returns from war.
"I brought a bunch of my friends on board to make this film, and I wanted it to be as excellent as it could possibly be," Drew says.
Achieving that excellence required an attention to detail that came naturally to her. "I worked with all of the actors, I kept track of everybody's emotional journeys and talked through scenes with everyone, and I was watching every take and I had notes and you know, it was a very hands-on experience as a producer for me in just like every aspect of it."
But Indivisible inspires Drew on more than a professional level. The couple's story reminds her of her own marriage to Dr. Lanfer, who is a religious studies professor at Occidental College.
Early in their marriage, Drew tells me the couple went through a dark time as they learned to communicate effectively. Thanks to hard work and sticking by each other, they made it to the other side, and Drew learned a lesson about self-worth in the process. "I'm loved simply because I am who I am. I don't have to preform or jump through a million hoops or be a good girl or whatever, you name it. I don't have to do any of those things to earn either love from my husband or love from God," she says.
As for her character's marriage to Chaplain Darren Turner, fans will have to see how that relationship fares. But one thing's for sure — the chemistry is familiar. That's because the movie also stars Justin Bruening as Darren, aka Matthew Taylor from Grey's, who April ends up marrying before her departure from the show.
Drew has already talked about April's hasty marriage in her final episode to the man she once left at the altar. The beauty of her character's journey for Drew was that April walked through brokenness and came out whole. But "whole" doesn't have to mean married. If she were given the opportunity to write April's ending, things would've been different. "I think what would've been great would've been for her to kind of walk off into the sunset without needing a man to fill that brokenness," she tells me.
In a way, Drew herself has walked through brokenness and came out whole. Now, she's making a name for herself not just in front of the camera, but behind it as well. And she's not doing it for more fame or money or praise. "When you are the lead of something, you get to set the tone. And I really feel alive when I get to be in the kind of position where I have the opportunity and the privilege to set the tone... I want to be a really good leader," she says.
There's so much good that comes in the midst of pain.
Through Indivisible, Drew hopes to pass on an important message to anyone in pain. Rather than avoid it, walk through it. "When you face it dead-on, you figure out what you're made of, you learn about your own resilience, you learn how to open your heart and ask other people for help. You build community that way, you build vulnerability and human connection that way… there's so much good that comes in the midst of pain."
Because of the way she walks through difficult experiences, Drew doesn't need any more closure for herself or for the character of April Kepner. But she wants former Grey's Anatomy fans to know she understands the pain that comes when representation is erased.
"I certainly recognize how meaningful [April and Arizona] were to some pretty gigantic communities that are certainly underrepresented in mainstream media," she says. "And I recognize that in both of these characters people felt like, finally, somebody was living their life up on screen and that they were seen in a way that was beautiful and not one-dimensional."
If Indivisible is any indication of what happens when Drew takes the lead, expect unparalleled depth and authenticity in her work for years to come. She's aware that as a faith-based film, Indivisible will face extra scrutiny. "Those films are still not considered real movies [by] a lot of the people in Hollywood," she says. But she chooses the faith-based projects she takes carefully, and sees them as bridge builders, not exclusively faith-based films. "I'm not interested, in my life and in my career, [in] just preaching to the choir. That's not interesting to me. I want to tell stories that affect people from every different walk of life."
Indivisible hits theaters Oct. 26, and Drew's holiday movie for Lifetime, Christmas Penpals, airs Dec. 15. But after that, "the world is wide open right now," she says, and she's embracing it with open arms.