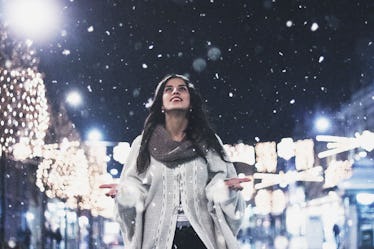 Santa Claus Village Is A Real Place & I Need To Catch A Sleigh Ride ASAP
Can we fast-forward to Christmas already? Let's be honest: The holiday season is the most wonderful time of the year, and so many of us just can't get enough of it. It's finally time to put on your Christmas playlist, re-watch your favorite Christmas movies, and cuddle up with some eggnog. It's totally acceptable to begin the celebration early, because what's not to love about getting into the holiday spirit? Pull out your Christmas decorations, grab your ugly sweater, and get ready for the best time of the year. There's no better holiday, so BRB: I'm planning a trip to Santa's Village in Lapland, Finland.
In my opinion, there's no such thing as "too much" or "too soon" when it comes to Christmas. You have complete permission to go all out and spread that holiday cheer like it's your job, as far as I'm concerned. Christmastime is about being grateful, spreading the love, and cherishing the people you love most in the world. The Christmas decorations and movies are just the icing on the cake.
If you want to take your holiday festivities to the next level, then you have to consider visiting Santa's Village for the best Christmas ever. If this town doesn't put you in a festive mood, then I'm not sure what will.