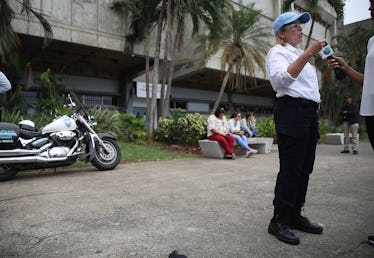 San Juan's Mayor Is Calling Out Trump Donor's Company's Sketchy Puerto Rico Deal
Joe Raedle/Getty Images News/Getty Images
San Juan Mayor Carmen Yulín Cruz continues to be a vocal advocate for Puerto Rico, nearly 80 percent of which is still without power after Hurricane Maria made landfall on Sept. 20. So when it was revealed that Whitefish Energy Holdings, the two-person electrical company primarily financed by a major Trump donor, just happened to win a $300 million contract to fix the island's power grid, Cruz slammed Puerto Rico's deal with Whitefish Energy, calling for it to be "voided right away." In turn, Whitefish threatened to pull out of Puerto Rico, stranding millions in darkness. As you do when you are asked for transparency.
Cruz said the contract was "alarming," according to an interview with Yahoo News on Oct. 25, and called for eliminating the deal. "The contract should be voided right away, and a proper process which is clear, transparent, legal, moral and ethical should take place," she said.
The Washington Post broke the news on Oct. 23 that two-year-old Whitefish Energy Holdings, LLC, a small electrical company with two full-time employees operating out of Interior Secretary Ryan Zinke's hometown of Whitefish, Montana, had won a $300 million contract with the Puerto Rico Electric Power Authority (PREPA), Puerto Rico's semi-public power company. (Zinke denies aiding Whitefish in winning the contract.)
The contract is suspicious in numerous ways. PREPA — which filed for bankruptcy in July 2017 — broke protocol for emergency management by forgoing "mutual aid" protocol, which would have enacted partnerships with other utility companies.
Additionally, according to WaPo, Whitefish chief executive Andy Techmanski said that the contract "emerged from discussions" between his company and PREPA, rather than going through a formal bidding process.
A $300 million no-bid contract with a company that has no money to pay for it? Fishy enough, but it gets worse.
Whitefish is also financed in part by large GOP donors — including a major Trump donor.
CBS News reports that the financial connection between the company and Trump are significant:
Whitefish is backed by HBC Investments. That firm's founder and general partner Joe Colonnetta gave $33,000 to the campaign of then-Texas Gov. Rick Perry, who is now Energy secretary. Colonnetta and his wife gave $28,200 to President Trump.
In response to increasingly loud criticisms, Puerto Rico Governor Ricardo Rosselló requested an audit on Oct. 25 into how the small company won such a significant and unusual contract, according to The Hill — a move which Mayor Cruz supported.
When Cruz tweeted, "If @WhitefishEnergy feels that asking for transparency is 'misplaced,' what are they afraid we will find," Whitefish responded by threatening to leave Puerto Rico, where, once again, anywhere from 75 to 79 percent of the island is still without power.
"We've got 44 linemen rebuilding power lines in your city & 40 more men just arrived. Do you want us to send them back or keep working?" they threatened.
Which is a totally normal thing to say when someone asks for more information about a huge contract that could possibly privatize an entire island's electric grid.
Cruz is not the only person to voice her concern about the contract, but she is the only person to whom Whitefish responded.
Cruz has consistently called for transparency from the Trump administration since Maria devastated the island more than a month ago. Her demands have drawn the ire of Donald Trump himself, who has called her, among other things, "nasty" and a bad leader.
She has been tweeting her concerns about possible corruption since the Post's Whitefish story broke.
Before lashing out directly at the mayor, Whitefish released a statement, which reads in part, "We share the mayor's frustration with the situation on Puerto Rico, but her comments are misplaced. Whitefish has more than 300 workers on the island and that number is growing daily... We find her comments to be very disappointing and demoralizing."
To which Cruz responded:
And then came the threat.
The company later apologized in a subsequent tweet, saying that the earlier comments "did not represent who we are and how important this work is to help Puerto Rico's recovery."
Of course, both the WaPo story and Whitefish's angry response to Cruz has put the company under intense public scrutiny, so they also tweeted pictures of some of their subcontractors in Puerto Rico. You know what they say: pics or it didn't happen.