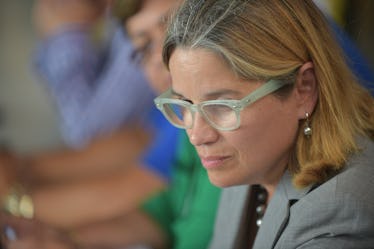 San Juan's Mayor Still Doesn't Give A Damn About Trump's Attacks
MANDEL NGAN/AFP/Getty Images
It has been 21 days since Hurricane Maria made landfall in Puerto Rico, violently thrusting the small U.S. territory into the dark. Three weeks, and the U.S. government's response has been nothing short of a disaster. So, of course, the mayor of San Juan, Carmen Yulín Cruz, has publicly asked for more help. President Donald Trump — a man with singular power to help Puerto Rico on a large scale — instead took to Twitter to criticize Cruz and call her "nasty," among other things. Well, the San Juan mayor's response to Trump's attacks does not mince words.
In the past few weeks, Trump has tweeted that Cruz had displayed "such poor leadership" in the wake of the hurricane; he called her "nasty"; and he made a veiled reference to criticism from "politically motivated ingrates." Yet Cruz, seemingly unflappable, continues to advocate for more aid and criticize the administration.
During an interview with Public Radio International (PRI)'s The World on Oct. 9, Cruz said about Trump's tweet calling her nasty, and accusing her of playing politics, "I don't give a sh*t."
She continued,
This isn't about me or politics. I'm not going to be the face you see out there just giving you a box of food for the photo op. I'm the face of the person who is going to make sure somebody gets that to you ... so like the last scene of Gone With the Wind — "Frankly my dear, I don't give a damn."
Cheeky reference to Gone With the Wind aside, Cruz is not messing around. She has appeared on myriad news shows in the past three weeks, asking for help and showing reporters the damage Puerto Rico is still grappling with.
She has been candid about the dire situation, even saying during a press conference on Sept. 29, "We are dying here." (The official death toll has risen to 45 people, with 113 still unaccounted for, according to CNN.)
Her comments raised the ire of Trump, who has a habit of attacking people, and particularly women and people of color, who criticize him. But Trump wasn't the only member of his administration to paint Cruz's comments as a political attack.
FEMA Administrator Brock Long echoed Trump — though perhaps with less vitriol — when he responded to Cruz's criticisms, saying the agency "filtered out the mayor a long time ago" and doesn't have "time for the political noise."
The "political noise" being referred to? Cruz's pleas for the government to help desperate Americans.
Three weeks after Maria almost razed the island, only 16 percent of Puerto Ricans have electricity, if you take the Department of Defense's word, though officials in Puerto Rico say it's closer to 10 percent, according to ABC News.
The U.S. government is providing only 200,000 meals per day to feed 2 million people, according to The Guardian — a crisis which FEMA officials reportedly acknowledge privately. Additionally, less than 400 miles of Puerto Rico's 5,000 miles of road are open to traffic.
Even more, the New York Times reports that Puerto Rico's health care system is in critical condition, stating that many of the infirm "remain in mortal peril," despite aid workers' best efforts to restore power and install generators. For example, patients requiring dialysis have had their treatment reduced by 25 percent, because many medical centers still "lack a steady supply of diesel to run their generators."
And perhaps most disturbing is a report from the Environmental Protection Agency (EPA) that people in Puerto Rico are attempting to drink water from superfund sites (some of the most contaminated land in the U.S.) out of desperation.
So it is absolutely understandable, when Trump lobbed rolls of paper towels into a crowd like he was shooting hoops and congratulated himself multiple times on Twitter for his response, that Cruz would express her anger — and keep working.
What is happening in Trump's mind is not what's happening in front of Cruz's eyes.
You can listen to the full interview on PRI's website or below: