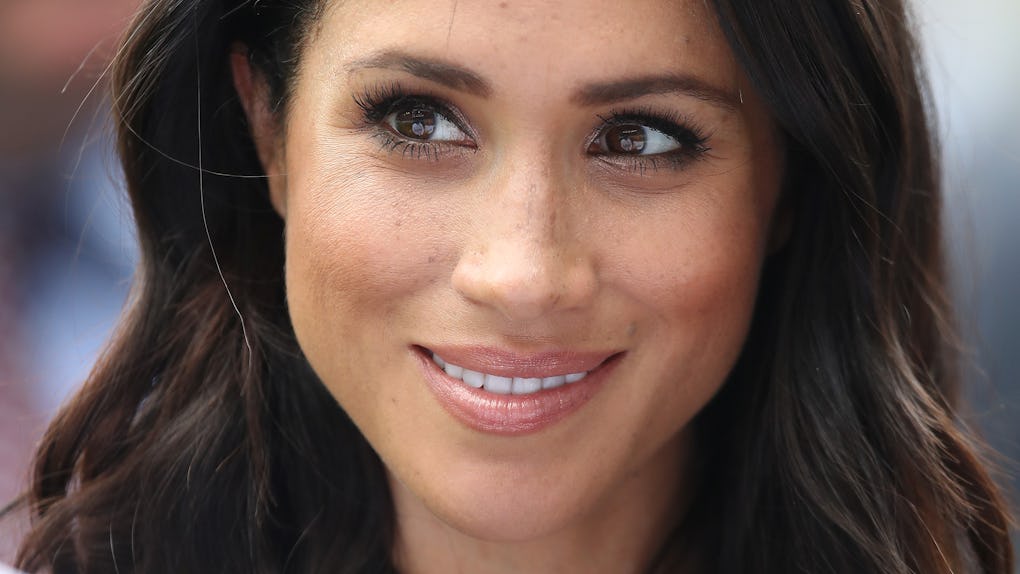 Chris Jackson/Getty Images Entertainment/Getty Images
Samantha Markle's Response To Rumors Meghan Is Meeting Their Dad Make Things So Much Worse
Meghan Markle's family is at it again. The Duchess of Sussex is now having to grapple with claims from her half-sister, Samantha Markle, that she has no intention of reconciling with her father, Thomas Markle. Basically, she's basically accusing Meghan's PR of lying about her intent in this situation. Samantha Markle's response to rumors Meghan's planning a meeting with their dad is not helpful and really unfortunate, especially for the new duchess.
After reports suggested that Meghan was planning a meeting with Thomas Markle over the weekend, Samantha shut the rumors down in an interview with The Sun, implying that someone (presumable Meghan, the royal family, or their PR team) is spinning the situation to make it seem like she's "making an effort":
I speak to him every day and it's sad but, no, they have not contacted him. There is no meeting planned, that is PR spin … The PR machines can stop trying to make out she's making an effort — she is not. This is a heartbreaking time for him and I'm very sad watching my sister ignore him.
Elite Daily has reached out to Kensington Palace for comment on Samantha's claims, but has not heard back at the time of publication.
On August 5, the Mirror reported that Meghan and the royal family were planning a secret meeting with Thomas to resolve some of the issues that have popped up over the last few months. To refresh your memory, Meghan's dad has committed his fair share of media blunders. First, he staged paparazzi photos. He skipped Meghan's wedding altogether after reportedly suffering a heart attack, and has since given several damaging interviews about his daughter.
While all of that went down, Meghan was reportedly looking to make amends with her dad, but that has yet to come to pass. So, her half-sister Samantha is now on the media trail, giving damaging interviews herself and claiming that Thomas has been removed from Meghan's inner circle completely.
Given that Meghan has allegedly cut off contact with her father and his side of the family, Samantha thinks Meghan shouldn't be called a humanitarian. Her reasoning? Well, it's a little off:
They work towards resolve and peace. But my sister disposed of the entire family. There is no way to candy coat something so foul.
It doesn't seem like Samantha and Thomas are willing to own how they've contributed to their current family woes with Meghan by doing one paid damaging interview after another at all.
Anyway, all this from Samantha comes as reports are surfacing that the royals are "at a loss" for what do about Meghan's family.
In an August 6 report from Entertainment Tonight, a source revealed that Meghan is "still hurt" by her dad and that the Palace doesn't know how to handle the situation:
She has not spoken to her father in more than 10 weeks since her wedding and is still hurt by her father, who has both staged the photos and continues to give paid interviews. The Palace is at a loss of what to do and is re-evaluating options, including a more aggressive strategy to stem the embarrassment caused by Meghan's dad, half-sister and half-brother.
So, this is clearly a difficult situation for everyone involved. In light of these sensitive family issues, ET's source said that Prince Charles has really stepped up for Meghan:
Meghan has established a particularly warm relationship with her father-in-law and Prince Charles adores his new daughter-in-law. He pulled out all the stops at Harry and Meghan's wedding and Meghan was grateful to him for showing such generosity and support when her father pulled out of the wedding last minute.
Hopefully, all of this can be resolved sometime in the near future ...for everyone's sake!