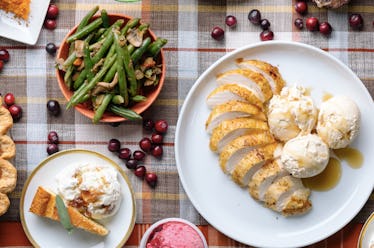 Salt & Straw's Thanksgiving Ice Cream Flavors Taste Like A Frozen Turkey Day Dinner
Please, correct me if I'm wrong, but in the last few years, ice cream culture has drastically changed. As a '90s kid, I grew up licking the basic flavors — chocolate, vanilla, strawberry, and cookie dough were the usual contenders. Now, on the other hand, there's a much wider selection, and the flavors have expanded beyond sweet to the vast realm of savory. For example, Salt & Straw's Thanksgiving ice cream flavors were just released, and they literally taste like all of your favorite Turkey Day dishes (yep, one even tastes like turkey!). I haven't tried any of them yet, but they actually look pretty delish.
Each and every year, Oregon-based ice cream shop, Salt & Straw, releases an expansive series of unique holiday flavors which have garnered an unimaginably gigantic following. Unlike traditional holiday ice cream flavors like pumpkin spice and peppermint, though, each pint tastes just like a different Thanksgiving dish. The pints go far beyond the dessert table, by mimicking the taste of all your favorite main course dishes (it sounds strange, I know). There's Roasted Peach & Sage Cornbread Stuffing, Salted Caramel Thanksgiving Turkey (which has actual turkey fat whipped into it for extra flavoring), Roasted Cranberry Sauce Sorbet, Sweet Potato Casserole with Maple Pecans, and last but not least, Spiced Goat Cheese & Pumpkin Pie (YUM). This selection is definitely atypical in the realm of frozen treats — to say the least — but they sound delicious nonetheless. TBH, I could see myself falling in love with all of these.
OK, I know these flavors probably aren't quite what you're used to in terms of desserts, but if you think about it, they sound kind of amazing. Missing that delightful plate of sweet potatoes you shoveled into your mouth at Thanksgiving dinner? Go for the Sweet Potato Casserole with Maple Pecans. Craving a little more cornbread while you're sitting and waiting for dessert? Go for the Roasted Peach & Sage Cornbread Stuffing variety. If you do end up deciding to purchase these, keep in mind that you have to buy all of the flavors at once, which is called a "complete Thanksgiving Celebration package." Each Thanksgiving Celebration Package comes out to $65 and according to Bustle, one pint is donated to a local food bank for every pint purchased. So basically, your ice cream buying habits are benefitting the welfare of humanity. Make sure you stock up if you want to do a little (or a lot) of good this holiday season.
When you're eating your Salt & Straw Thanksgiving-flavored ice cream, make sure to pair it with a cheap (and totally delicious) Walmart wine. There are so many options, and so little time until Turkey Day, so make a choice, and choose wisely.
With Thanksgiving right around the corner, there's a lot to be thankful for. I, personally, am extremely thankful for each of these glorious Thanksgiving ice cream flavors. I really can't wait to try them, and TBH, the Roasted Cranberry Sauce Sorbet literally has my name on it. If you need me, I'll be here, with my pint in one hand, and a spoon in the other.