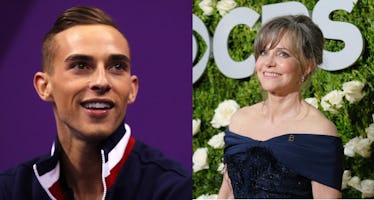 This Actress Tried Setting Up Adam Rippon With Her Son & Twitter Can't Handle It
Maddie Meyer/Getty Images Sport/Jemal Countess/Getty Images Entertainment/Getty Images
Dispelling any possible notions that super famous moms are immune to embarrassing their children, Sally Field is here to show you that even Oscar-winning moms can't help but meddle in their children's love life. Olympic figure skater (and national treasure) on Team USA, Adam Rippon, presumably caught Field's eye as she tuned in to the Olympic figure skating events in PyeongChang, South Korea. You can't blame Field for thinking that Rippon might be a perfect match to date her son, but she did more than "think" about it. Taking it one step further, Sally Field tried hooking up Adam Rippon and her son, and Twitter is losing it over her total "mom moment."
It all started with an innocent text sent from Field to her son, Sam Greisman, according to Entertainment Weekly. Greisman shared the text message on his Twitter account on Friday night, Feb. 16 with some context that it was about his "Olympic crush," but he didn't name any names. He shared the text from Field in which she wrote, "Sam… he's insanely pretty. Find a way," and he posted it with a caption that read, "Just some really helpful advice from my mom on how to deal with my Olympic crush."
The advice didn't end there, though, Field continued with her matchmaker mindset and shared her son's tweet on her own Twitter account. Not settling for subtlety, Field tagged Rippon in her tweet, essentially revealing him as Greisman's Olympic crush. OK, this is quickly entering embarrassing territory (but in the most adorably loving way).
Greisman's response was a concise, "Yikes."
Field and Greisman weren't the only two people who weighed in on the tweet. So many people on Twitter were living for Field doing the most when it came to finding her son the perfect Olympic date in Rippon, the first openly gay figure skater to compete at the Olympics.
Rippon has not yet responded to the tweet, but that has not stopped Twitter from loving every second of this.
"Sally Field trying to set her son up with Adam Rippon is my fave thing today."
"Such a mom thing! I'm totally invested in this possible relationship. Please keep us posted."
"Sally —aka Norma Gay— out here trying to set her son up with the internet's boyfriend. Amazing."
"Honestly, your mom is goals."
"When you've got a huge gay crush but don't know what to do about it and your mom is Sally Field."
Honestly, there were not many tweet responses relating to the "embarrassing mom" moment of it all. Most people were so excited to see Field being such a supportive mom. I will say, though, that if you were to put yourself in Greisman's shoes for a minute, you would probably have an initial reaction of red-faced embarrassment.
Since the rest of Twitter isn't in Griesman's shoes in the instance of this hopeful tweet set-up, people continued praising Field as a mom and ally of the gay community.
"Sally Field is out here being the ally we deserve and the parent we all wish we had."
"Putting the 'ally' in Sally."
"We could all use a parent like Sally."
It turns out that being a supportive mom is just what Field does. Back in October 2012, Field received the Human Rights Campaign's (HRC) Ally for Equality Award, according to Huffington Post. During her acceptance speech, Field talked about Greisman's coming out story. She said, "...Sam was different, and his journey to allow himself what nature intended him to be was not an easy one. As his mother, I consider it one of the great privileges of my life to be part of it."
As evidenced from her recent foray into matchmaking, Field still seems to feel privileged that she is part of her son's life journey.
While that privilege might come off as a slightly embarrassing moment (like when your mom basically asks out your very famous crush for all of the internet to see), it's likely that Greisman also recognizes how much love is behind Field's action — it's clear that Twitter surely sees it.