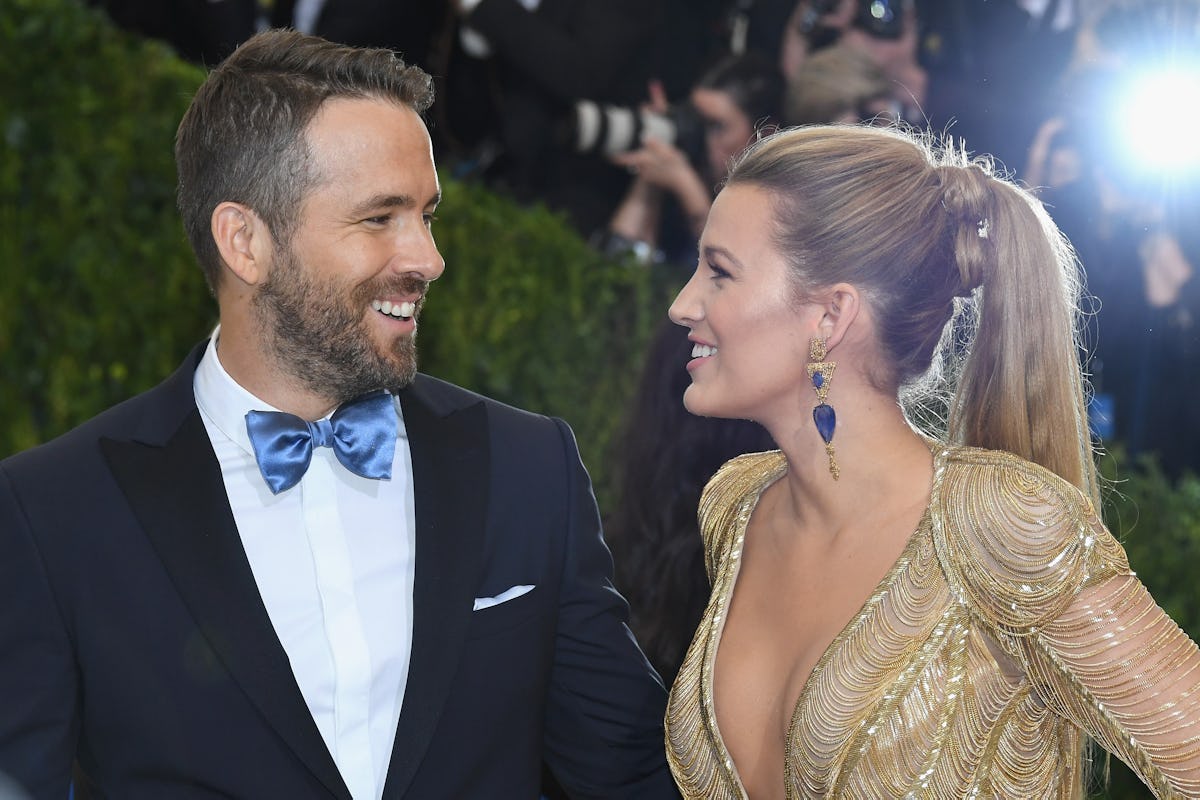 Ryan Reynolds Went All Out On Blake Lively's Valentine & It's Seriously Hilarious
Dia Dipasupil/Getty Images Entertainment/Getty Images
While there are so many celebrity couples that we can list as our favorites, Ryan Reynolds and Blake Lively might take one of the top ranks. From their quirky inside jokes to one another to their full-on trolling on each other's social media pages, we can't get enough of them. But wait until you see Ryan Reynolds' valentine to Blake Lively. The Deadpool actor's latest Instagram post is the cutest gift you'll see today and has me swooning even more over the couple.
On Wednesday, Feb. 14, while some of us depended on store-bought goods to spoil our baes for Valentine's Day, Reynolds decided to channel his inner-chef. He baked an adorable heart-shaped strawberry cake to gift his wife for the holiday. The actor posted a picture of himself to his Instagram page that showed him holding the dessert with a shocked look on his face, as if he couldn't believe that he was able to create such an impressive and delicious-looking treat. He even had on kitchen mittens like he couldn't wait to take the photo as soon as it came out of the oven. His caption read, "I baked this cake for my wife. The icing is glue, 'cause I'm not a scientist."
See why I said they take the cake for being one of our favorite couples? *slaps knee*
While Reynolds was getting hands-on in the kitchen, Lively was at the Michael Kors' New York Fashion Week, enjoying her own sweet treat, according to Entertainment Tonight. The Gossip Girl star posted a picture to her Instagram page, dressed in white heels with red hearts and a shiny red jacket, accompanied by a matching purse and a heart-shaped donut, smeared in red frosting and topped with a cute "xoxo." Her caption read, "If I'm this obnoxious at 30, you can only imagine how EXTRA I was on 'spirit day' at school."
I love how both of them went all out for Valentine's Day in their own ways. But at the same time, I can't help but think that Lively was trolling Reynolds by posting this heart-shaped donut while she had a heart-shaped cake waiting at home.
Reynolds and Lively often troll each other online.
If Lively was trolling her husband, it wouldn't be the first time. On Dec. 23, Lively took to her Instagram to post their family's attempt at making Christmas cookies, and let's just say you couldn't really tell that their sugar cookies were cookies at all. There was a unfinished snowman, charred star-shaped cookies, and multi-colored frosting smeared across the baking sheet. Instead of pushing the less-than perfect baked goods off on their daughters, James and Inez, the actress placed full blame on her hubby.
Her caption read, "@vancityreynolds made some Christmas cookies...He's verrry handsome though." Which we can't deny, but IDK if that really excuses how bad these cookies were. Take a look for yourself.
See what I mean?
But according to Marie Claire, Reynolds sent a clever jab back to Lively. He left a comment that read, "I wanted to be the first person to bake Christmas cookies using only a hammer."
There was also that time in August 2017 when Reynolds posted a birthday wish to Lively with a picture of himself and his wife, which looked like it would have been really cute — if he hadn't totally cropped her out.
But Lively got him back for his own birthday by cropping him out for Ryan Gosling. *heart-eye emoji*
Um, love it.
At least we know that these two can joke around in harmless fun and wit. And if one ever gets upset with the another, they can always smooth it over with some baked goods.