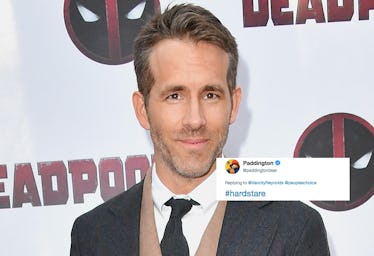 Ryan Reynolds Is Feuding With Paddington Bear On Twitter, So That's Where We're At Now
Michael Loccisano/Getty Images/Twitter
Ryan Reynolds is in another fake Twitter feud, but the person he's feuding with isn't even a person... it's a fictional bear. (I have a degree in journalism.) Ryan Reynolds and Paddington Bear's Twitter feud came in response to the People's Choice nominations that Deadpool 2 and Paddington 2 received. You wouldn't think these two movies would be in competition with each other, but Deadpool himself claims in Deadpool 2 that it's a "family film," so he's coming for Paddington's crown.
"So honored by all the @peopleschoice noms," Reynolds tweeted on Sept. 5. Hope you vote for Deadpool 2 and feel free to write us in for best Family Film. Because watch your f*cking back, Paddington." The tweet is exactly what you'd expect from Ryan Reynolds. The cast of Paddington 2 accepted Reynolds' challenge, with Downton Abbey alum Hugh Bonneville responding to Reynolds tweet saying, "'Language, Mr. Reynolds, language'. #hardstare #paddington2." Then Paddington himself responded to the tweet and said, "#hardstare."
Sure, it's a fake feud, but can you imagine a sketch during the People's Choice Awards that showed the Merc With A Mouth and the UK's favorite teddy bear duking it out for best Family Film? Only Ryan Reynolds could make this funny.
People on Twitter thought this exchange was hilarious.
Deadpool 2 is up for four nominations at this year's People's Choice Awards in the Movie of 2018, Action Movie of 2018, Male Movie Star of 2018, and Action Movie Star of 2018 categories. Paddington 2 is just up for the Family Film of 2018 People's Choice Award, and it's up against basically every other animated movie released in the last year.
As for Deadpool 2, it's up against its fellow Marvel films Avengers: Infinity War and Black Panther for Movie of 2018, and Ant-Man and The Wasp joins the running with the same films in the Action Movie of 2018 category. There are six men from the Marvel superhero franchise up against each other for Male Movie Star of 2018 including Reynolds, and seven if you include Chris Pratt, who was nominated for Jurassic World: Fallen Kingdom and not Avengers: Infinity War like Chris Hemsworth and Robert Downey Jr. (Paul Rudd is nominated for Ant-Man, and Chadwick Boseman and Michael B. Jordan are nominated for Black Panther.)
For the first time ever, the People's Choice Awards are going to be broadcast on E! instead of CBS. In its announcement of the nominations, E! promised the show would be as entertaining as ever "with some E! flare added in for good measure." So... the Kardashians will be presenting? I don't know what "E! flare" is supposed to mean. In a statement about the show's move from CBS to E!, Executive Producer of Den of Thieves Jesse Ignjatovic said,
We are thrilled to be producing the 2018 People's Choice Awards for E!. The PCAs are an iconic award show because they truly reflect the fans—through the power of their votes. There is no better home for this show than on E! and we can't wait to bring that fan energy to the stage in 2018.
They're really talking a huge game for this year's People's Choice Awards airing Nov. 11, but the only action I really want to see (no, demand) is a bit of fisticuffs between Deadpool and Paddington Bear.