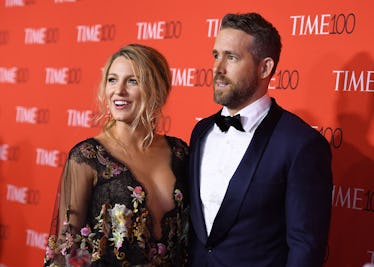 Here's Why Sex Scenes Aren't An Issue In Ryan Reynolds & Blake Lively's Marriage
ANGELA WEISS/AFP/Getty Images
Look, I'm not a famous celebrity married to another famous celebrity. In fact, I'm not even a really, really, ridiculously good-looking human dating another really, really, ridiculously good-looking human. Actually, now that I think about it, I have maybe nothing in common with Blake Lively and Ryan Reynolds. All of this to say, I've never had to worry about my partner acting out an intimate love scene to be viewed by thousands of people, so I'll just need to take their word for it that Ryan Reynolds and Blake Lively's sex scenes are apparently just "part of their job."
Right, right. Mine too.
Lively and Reynolds are revered for being incredibly down to earth as such huge stars. When the two first got together back in 2011, it seemed like a match made in perfect jawline heaven. Now, one marriage, six years, and two daughters later, they're still a match made in perfect jawline heaven.
One thing us regular folks often wonder is how do spouses of actors and performers feel when their partner is required to perform a love or sex scene with someone else? Sure, it's not considered "cheating" and it literally is part of the job, but, like, still.
Lively recently appeared on Good Morning America where she talked about some of the weirdnesses that can pop up in their profession, and how nice it is to have a partner who understands it.
She said,
In general, it's nice to have someone who understands what you're doing. Especially because our job is so weird – you have to be married to other people, it's all so strange. It's never normal, even when you're both doing it.
Speaking specifically about sex scenes, Lively tells us that — wait a second — they're not actually doing it in movies and on TV?
It's helpful to know when you're acting that you're in a relationship with someone else, that that's not what's actually happening. Because I have friends who aren't married to someone who's in the business, so they're like: "Oh, so you're not actually making love in that scene?!" And I'm like: "No, no, no, no, definitely not."
Hollywood, man.
If simulating making love with someone else isn't enough to break this couple up, it's hard to imagine what could.
Maybe... Ryan's bad dad jokes, perhaps?
During the interview, Lively was asked how she feels about her husband's dry sense of humor on Twitter.
For example, as a tribute to his wife on her birthday, Reynolds hilariously tweeted a photo where she is cropped out. He captioned it simply, "Happy birthday to my amazing wife."
In other tweets, he joked about leaving his daughter buried in the sand on a beach vacation and incorrectly administering CPR (not related).
Fortunately for Lively, she says she no longer uses Twitter and is spared the subpar jokes.
Luckily I lost my password to Twitter about a year and a half ago, so I haven't been able to keep up. Everybody's always asking about it, but I never know. He's so funny, but [needs] a lot of therapy.
Ugh. Love to love your love. Please adopt us.
I mean... look at this perfect family!
Bad jokes and awkward sex scenes aside, Reynolds says Lively is the best thing that's ever happened to him.
During his speech in 2016 while accepting his Hollywood Walk Of Fame star, he told Blake,
You are the best thing, the best thing that has ever happened to me — second only to this star. …You make everything better, absolutely everything in my life better. You've made me the father of my dreams when I thought I only had fun uncle potential.
OK, there were one or two dad jokes. He just couldn't help himself.
Check out the entire Gen Why series and other videos on Facebook and the Bustle app across Apple TV, Roku, and Amazon Fire TV.