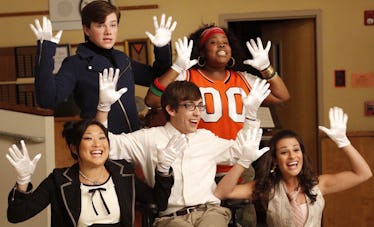 Ryan Murphy Wants To Reboot 'Glee' With A New Cast, Including Ben Platt
Fox
The big, bold musical numbers of Glee may be coming back to TV screens soon, because showrunner Ryan Murphy has a new idea for a reboot of his hit show. Though Glee ended five years ago and Murphy has moved on to helming multiple projects currently in production, he's still thinking of ways to resurrect the musical comedy. Ryan Murphy shared his Glee reboot idea in a lengthy Instagram post on Friday, May 22, and the new version of the show would bring in some new faces.
Murphy is writing, directing, producing, and developing multiple series right now, but one of his trademarks is featuring a familiar cast of actors across many of his projects. Two of the latest additions to Murphy's troupe are musical theatre stars Ben Platt and Beanie Feldstein — Platt stars in Murphy's Netflix dramedy The Politician and Feldstein will play Monica Lewinsky in the upcoming third season of American Crime Story. Clearly, Murphy's work with the actors has inspired him to take a look back on his biggest musical project, and the showrunner pitched a new Glee pilot starring Platt, Feldstein, and Lea Michele.
"Here's the new pilot: Lea and Ben are frenemies who fight for the heart and soul of Glee Club. Ben is also on the football team, and pretty much sleeps with the entire school and is the heartthrob of McKinley. Beanie is their mutual best friend, and torn," Murphy wrote. "Suddenly, Beanie joins forces with Sue Sylvester, joins Glee Club and becomes the main soloist and the ruthless star of the club. Lea and Ben have to then join forces to dethrone her."
And just to ensure fans that he is serious about this idea, Murphy ended the caption emphasizing that he really wants to shoot this story, teasing that maybe he will.
This isn't the first time Murphy has teased a new take on one of his beloved projects this month. A couple weeks back, Murphy revealed his idea for an American Horror Story spinoff called American Horror Stories, which would condense different spooky tales into one-hour episodes rather than full seasons.
Recently, Murphy's new Netflix series Hollywood premiered on May 1 and The Politician's second season set a release date for June 19 on Netflix. Murphy is also working on the tenth season of American Horror Story, although production had to halt due to the coronavirus pandemic. Fans will have to wait to see if Murphy really does decide to go ahead with this new Glee idea, or if it was just a fleeting daydream.