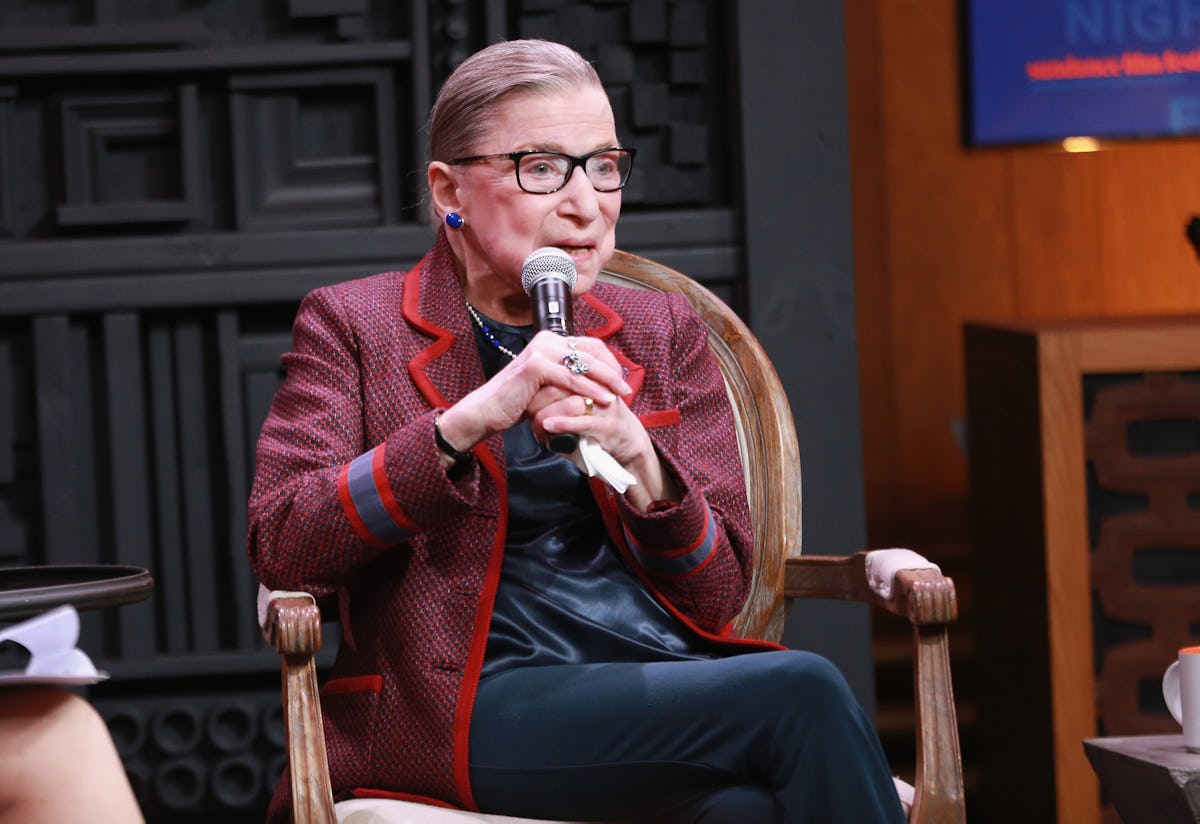 Ruth Bader Ginsburg Spoke Out About #MeToo & It's Seriously Everything
Robin Marchant/Getty Images Entertainment/Getty Images
On Jan. 20 and 21, hundreds of thousands of women across the country stepped out and marched for the first anniversary of 2017's historic Women's March. This year's march was not only fueled by the political climate following the first year of Donald Trump's presidency, but also by the #MeToo movement and the numerous exposés of sexual abuse in entertainment and politics that inspired it. Many celebrities came out and gave rousing speeches in front of the march's crowds, but nobody has summed up the current social climate in this nation better than the Notorious RBG. Supreme Court Justice Ruth Bader Ginsburg's comments on the #MeToo movement are seriously too perfect, so I'll just let her words speak for themselves.
Although RBG did not speak at any of the Women's Marches over the past weekend, she still made her opinion and stance on the #MeToo movement heard. On Jan. 21, Justice Ginsburg made an appearance at the Sundance Film Festival in Park City, Utah at a panel ahead of the screening of RBG, the new documentary that examines her life and the impact she's made throughout her career in law. Being that Justice Ginsburg works in the highest court in the land and the nature of the weekend's events, she of course was asked to comment about the growing #MeToo movement that brings awareness to sexual abuse in the workplace or otherwise. And the way RBG explained the new era of female empowerment we've found ourselves in is seriously the best. According to Deadline, when asked about her thoughts on the movement during the interview, Ginsburg said,
I think it's about time. For so long women were silent, thinking there was nothing you could about it. But now the law is on the side of women or men who encounter harassment, and that's big thing.
Hearing a Supreme Court Justice say that this movement has been a long time coming is so incredibly inspiring.
Ginsburg talked about the fact that for so long, women were afraid to come forward because they believed the law would not lean in their favor. "The attitude towards sexual harassment was 'get past it, boys will be boys'," Ginsburg said, "This was not considered anything you could do anything about, that the law could do anything about." But now, clearly things are changing. Justice Ginsburg was also asked about her thoughts on the possible backlash against the movement, to which she responded, "Let's see where it goes. So far it's been great. When I see women appearing everywhere in numbers I am less worried about that."
The new film, directed by Betsy West and Julie Cohen (yay female directors!), is set to air on CNN later this year, according to Deadline. The panel that Justice Ginsburg appeared at was a very popular and highly anticipated event, as the judge is not typically interviewed in this candid of a fashion. And to be honest, it's about time we got a documentary on her astounding life and career. I mean the woman is 84 years old and still going strong! How can that not be celebrated?
Needless to say, I am excited about this project. And this panel is a little bit of a teaser as to what we should expect from the documentary once it comes out. During the panel Justice Ginsburg also mentioned that her health is in good condition and that she's in it for the long haul when it comes to her tenure working in the Supreme Court. She declared, "As long as I can do the job full steam, I will be here."
I sure hope so, RBG. The world is better for having a woman like you calling the constitutional shots.