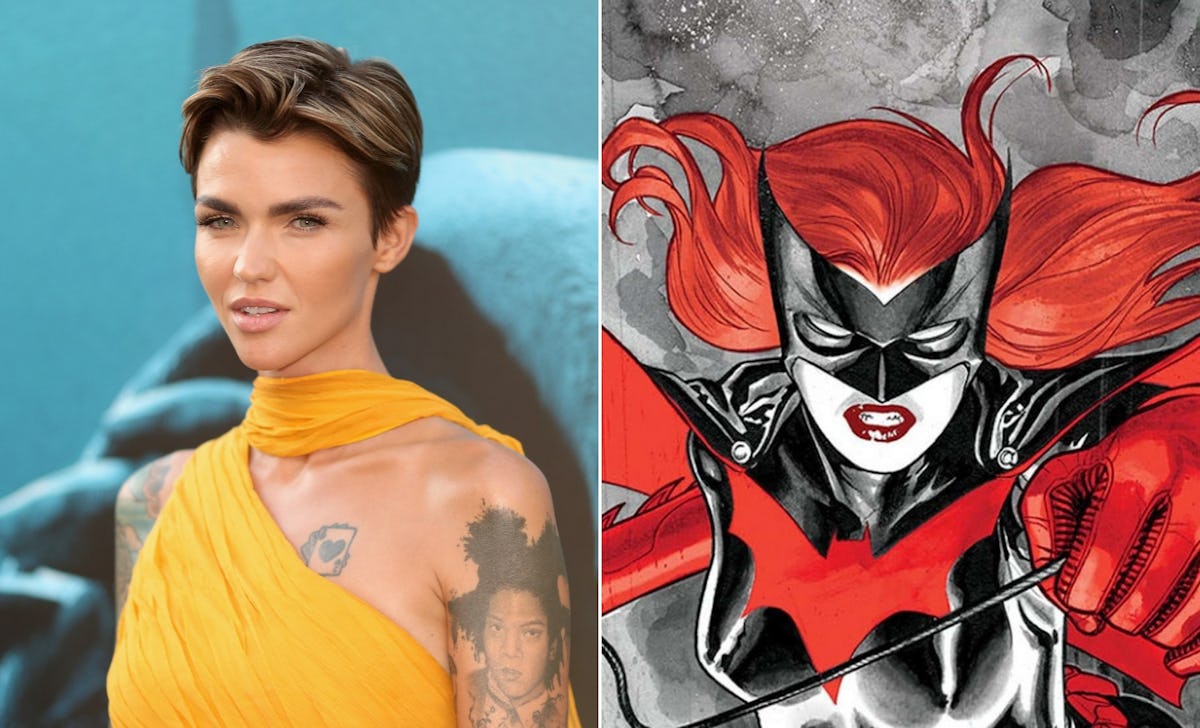 Ruby Rose's First Photo As Batwoman Will Have Superhero Fans So Pumped
Christopher Polk/Getty Images, DC
A couple of months ago, the CW revealed that Ruby Rose had been cast to join the network's slate of DC Comics-based superhero shows as Batwoman, and now fans are finally getting their first look at what Rose's Batwoman will look like. Two months ahead of her official debut on the CW, the network has released Ruby Rose's first photo as Batwoman, and you probably will not even be able to recognize the actress in all her new superhero gear.
Ruby Rose's Batwoman is set to make her first appearance during this December's Arrow-verse crossover event, which will bring together the heroes from all of the CW's superhero shows: Arrow, The Flash, Supergirl, Legends of Tomorrow, and Black Lightning. After she gets her big welcome from all of her new hero friends, Batwoman will get her own standalone series, which the CW has planned to debut next year.
But the big question fans had after Ruby Rose was cast as Batwoman was what would the live-action version of the iconic superhero look like. Although Batwoman has been around in the DC Comics since the '50s, the CW made it clear that Rose would be playing the more recent iteration: Kate Kane, who first donned the Batwoman suit in the comics in 2006. What is notable about Kate Kane is not only her fiery red hair, but the fact that she is an out lesbian, something that the CW made clear would be highlighted in the Batwoman series.
The first photo of Ruby Rose as Batwoman shows just how closely the CW was able to adapt Kate Kane from the comics. Fans probably cannot even recognize Rose with her bat-mask covering most of her face with a long red wig surrounding it. The photo may not look like Ruby Rose, but it looks exactly like Kate Kane.
The photo also gives fans a peek at Gotham City, which has been mentioned within Arrow-verse shows but never visited. Batwoman is shown roaming a rooftop of this urban metropolis with the iconic bat signal shining in the background.
The CW's description of the upcoming Batwoman series underlines the dark and gritty feel of this first-look photo, teasing that we will see Kate Kane struggling with her own demons as she tries to become a symbol of hope in Gotham:
Armed with a passion for social justice and a flair for speaking her mind, Kate Kane soars onto the streets of Gotham as Batwoman, an out lesbian and highly trained street fighter primed to snuff out the failing city's criminal resurgence. But don't call her a hero yet. In a city desperate for a savior, Kate must overcome her own demons before embracing the call to be Gotham's symbol of hope.
But before we get to see Kate Kane patrolling Gotham City on her own, Batwoman will make her first appearance during the Arrow-verse crossover event in two months. Ruby Rose's Batwoman will first fly into action during the Dec. 9 crossover, and then fans can expect her standalone series to premiere on the CW next year.