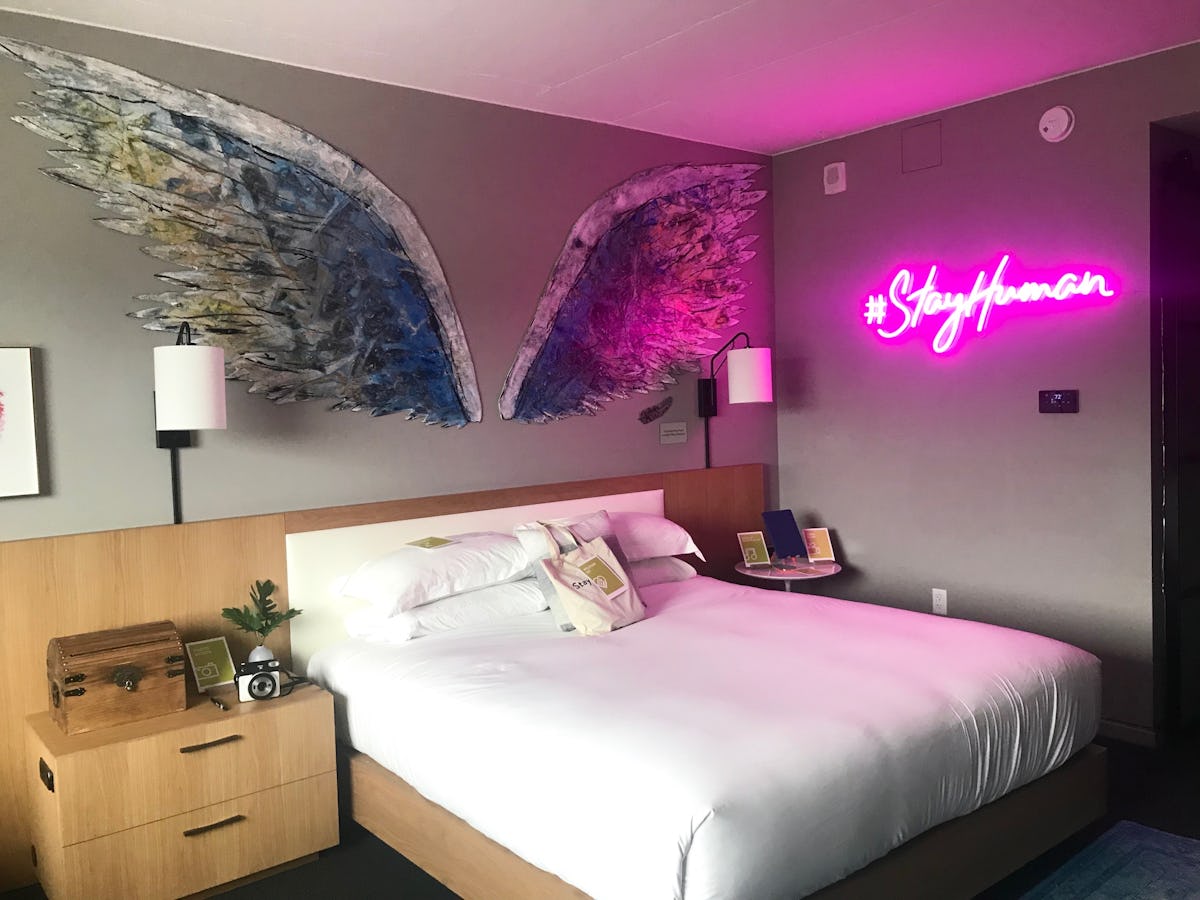 This Los Angeles Hotel Will Turn Your Stay Into An Interactive Social Experiment
Kimpton Hotels & Restaurants
Most hotel rooms have one thing in common: There are absolutely no traces left behind from previous guests. However, one hotel is breaking the mold with a brand new room that encourages each traveler to leave their mark. That's right: Room 301 at the Kimpton Everly Hotel in Los Angeles, California throws its visitors straight into a social experiment that explores human connection. In order to do so, it provides guests with interactive tools that helps them share their personal experiences with future room occupants. Between written notes, a Spotify playlist, photo documentation, and more, guests will definitely know who's slept in *that* bed before them.
I know, I know: You're probably wondering why a hotel would want its visitors knowing about the strangers who've previously stayed in their room. Believe it or not, there's a method to the company's madness. According to a Room 301 blog post by the hotel, Kimpton Hotels & Restaurants is trying to build a better sense of community by establishing human connections — and its immersive hotel room is helping the company do just that.
The hotel talked about its goal in the blog post about Room 301, and said, "At Kimpton, we believe that commonalities exist between all people — no matter their background, where they're from, or whether they've ever even met. Through our Stay Human efforts, we're hoping to build a greater sense of community at Kimpton Hotels & Restaurants."
The company released a video to further explain how the interactive room works. Check it out below:
It looks pretty sweet, right?
According to The Independent, there are various interactive experiences that Room 301 offers its guests. Some of them include a confession wall that visitors can paint on when they stay, and a pinboard that guests can use to provide an affirmation for the next traveler who stays in the room. One of my favorite features is the reported iPad that provides a Spotify playlist which guests can add their own track to. (As someone who loves music, I'd be super interested to find out what kind of artists previous visitors like.)
To find out about all of the social experiments hidden in Room 301, you'll have to book the room and find out for yourself.
In addition to interactive features that are passed from guest to guest, there's reportedly one experience that guests can share with the hotel (and only the hotel). Per The Independent, visitors can record a video testimonial and answer personal questions provided by Kimpton Hotels & Restaurants. Their answers — along with other aspects of the social experiment — will reportedly help the hotel get to know its clientele even better. The goal here is to create a better sense of community at Kimpton establishments by getting to know more about the customers who visit.
If you're interested in staying in Room 301, you can email StayHuman@KimptonGroup.com and request your preferred dates. If the room is available, you'll hear back from the company with more details.
FYI, you only have until Nov. 30, 2018 to stay in the room — so book your trip ASAP and become part of the social experiment.