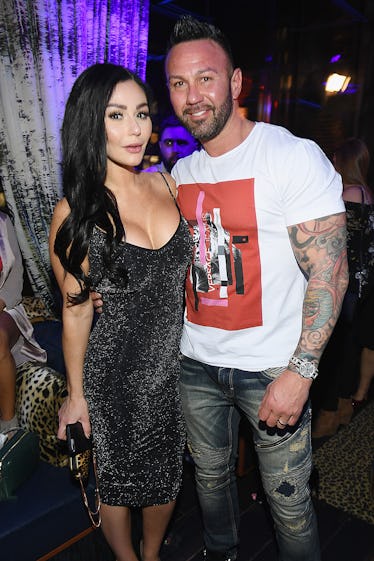 Roger Just Joked That JWoww Is Doing The Most Extreme Thing To Make Him A Better Husband
Dave Kotinsky/Getty Images Entertainment/Getty Images
I am still in denial about the fact that Jenni "JWoww" Farley" and her husband Roger Mathews may be splitting up after three years of marriage. I mean, I know they've had their fair share of problems — who hasn't? — but I just totally ship these two and want to see them work things out for the sake of their adorable kiddos, Meilani and Greyson. Or at least I did until I heard Roger's joke about JWoww giving him shock therapy. The whole thing was just so bizarre and now I kinda don't know what to think.
Roger hit up his Instagram feed on Oct. 3 to share a picture of his tattooed lower back hooked up to some kind of contraption. "Technology is an amazing thing," he wrote in the caption. "Science has advanced to the point my where they make shock therapy specifically designed for men to become better husbands. I had this device installed with shock leads that go directly into my spine and my wife holds the controller and settings. It's called the 'Dirtbag 9000'. It has voice recognition so if you question your wife it will light you up like a f--king Christmas tree."
Umm... OK, what?!
"It has four settings," he continued. "1. You're a c--t 2. I should have stayed with my ex 3. I hope you die a slow painful death 4. Just for fun. (Which is the most powerful setting and is like being shot by a police taser)."
Don't worry — I totally don't get it, either. But apparently, the whole thing was some type of attempt at a joke.
"Humor has always been my way through life," Roger ended the post. "Praying for a better tomorrow. Love you @jwoww."
I really need to hear JWoww's thoughts on this post like now.
News first broke that the Jersey Shore star had filed for divorce on Sept. 27. According to TMZ, JWoww cited irreconcilable differences in the divorce complaint, and claimed the marriage had been on the rocks for at least six months.
Such a bummer. Meanwhile, Roger posted an emotional video on Instagram to clear things up the exact same day. "My wife filed for divorce, it's true," he explained in the clip. "I don't blame her. There's no cheating or any dumb sh*t or any juicy details. She just grew tired of the repetitive pattern that we fell into. Again, I am not going to get into detail, but it was a repetitive pattern and not a good one."
It's all so sad, right?
"But here's what's also true," Roger continued. "I'm not done fighting. I'm gonna win my wife back. I'm gonna win her affection back. I'm gonna win her love back. We're in counseling so there is hope. It ain't over till the fat lady sings."
Gotta admire his perseverance, right? I mean, I think the whole shock therapy thing was a little misguided, but I'm still rooting for these two and their beautiful family so keep fighting that good fight, Rog!