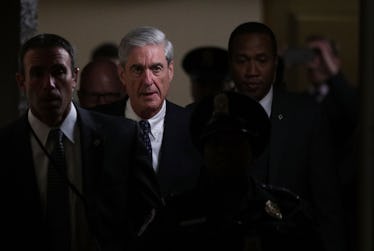 Robert Mueller Reportedly Has A List Of Questions For Trump & Here They Are
Alex Wong/Getty Images News/Getty Images
Former FBI Director Robert Mueller reportedly has questions for President Donald Trump — dozens of them. The list of reported questions indicate that Mueller, the special counsel in charge of the Russia investigation, is most interested in asking the president questions about possible obstruction of justice, the firing of former FBI Director James Comey, and contacts between the Trump campaign and Russia, among other topics. Robert Mueller's reported questions for Donald Trump were first reported by The New York Times on Monday night, April 30.
By Tuesday morning, President Trump reacted to the report, seemingly confirming the authenticity of the list of questions. Elite Daily has reached out to the Department of Justice about the veracity of the questions as reported, but did not hear back at time of publication.
"So disgraceful that the questions concerning the Russian Witch Hunt were 'leaked' to the media," the president tweeted. "No questions on Collusion. Oh, I see ... you have a made up, phony crime, Collusion, that never existed, and an investigation begun with illegally leaked classified information. Nice!"
He later added, "It would seem very hard to obstruct justice for a crime that never happened! Witch Hunt!"
Despite what the president tweeted, the list of reported questions reported by The New York Times does, in fact, include queries about potential collusion between members of Trump's presidential campaign team and Russians.
According to The Times, one question reads: "What knowledge did you have of any outreach by your campaign, including by Paul Manafort, to Russia about potential assistance to the campaign?"
As The Times notes, no such outreach by Trump or the Trump campaign has been publicly reported or revealed.
The Department of Justice's investigation focuses on potential ties between the Trump campaign and Russian efforts to interfere in the 2016 presidential election. The investigation was formerly headed by former FBI Director Comey. Shortly after Comey was fired by President Trump in May 2017, Deputy Attorney General Rod Rosenstein appointed Mueller, Comey's predecessor at the FBI, to serve as special counsel, an independent investigator overseeing the probe.
Earlier in April, The Washington Post reported that Mueller reportedly told President Trump he is not a criminal target of the investigation, although Mueller has not publicly confirmed nor denied this. Three months earlier, in January, the president told reporters that he would be willing to answer questions from Mueller under oath.
"I'm looking forward to it, actually," the president said at the time. "I guess they're talking about two or three weeks, but I'd love to do it." He also added, as he has on numerous occasions, that there is "no collusion whatsoever."
On Monday, The New York Times reported that Mueller's reported list of questions for President Trump included at least 48 questions. The Times did not reveal the source who provided the list of questions to the paper, only noting that the questions had reportedly been read by Mueller's team to members of Trump's legal team and that a document detailing the questions was provided by "a person outside Mr. Trump's legal team."
The Times listed the questions in four separate categories: questions related to Michael Flynn (the former national security adviser), questions related to James Comey (the former FBI director), questions related to Attorney General Jeff Sessions, and campaign coordination with Russia.
One of the reported questions under the latter category focuses on Trump's knowledge of efforts to hack the Democratic Party's emails. That particular question reportedly reads: "During the campaign, what did you know about Russian hacking, use of social media, or other acts aimed at the campaign?"
Another reported question, related to Comey, focuses on Trump's interview with NBC News' Lester Holt after Comey's firing. That question reportedly reads, "What did you mean in your interview with Lester Holt about Mr. Comey and Russia?" During that May 2017 interview, Trump told Holt,
Regardless of recommendation [from Rod Rosenstein], I was going to fire Comey knowing there was no good time to do it. And in fact when I decided to just do it. I said to myself, I said, you know, this Russia thing with Trump and Russia is a made up story, it's an excuse by the Democrats for having lost an election that they should have won.
Whether Mueller will actually find out what Trump exactly meant — and whether an interview between the two actually takes place — remains to be seen.