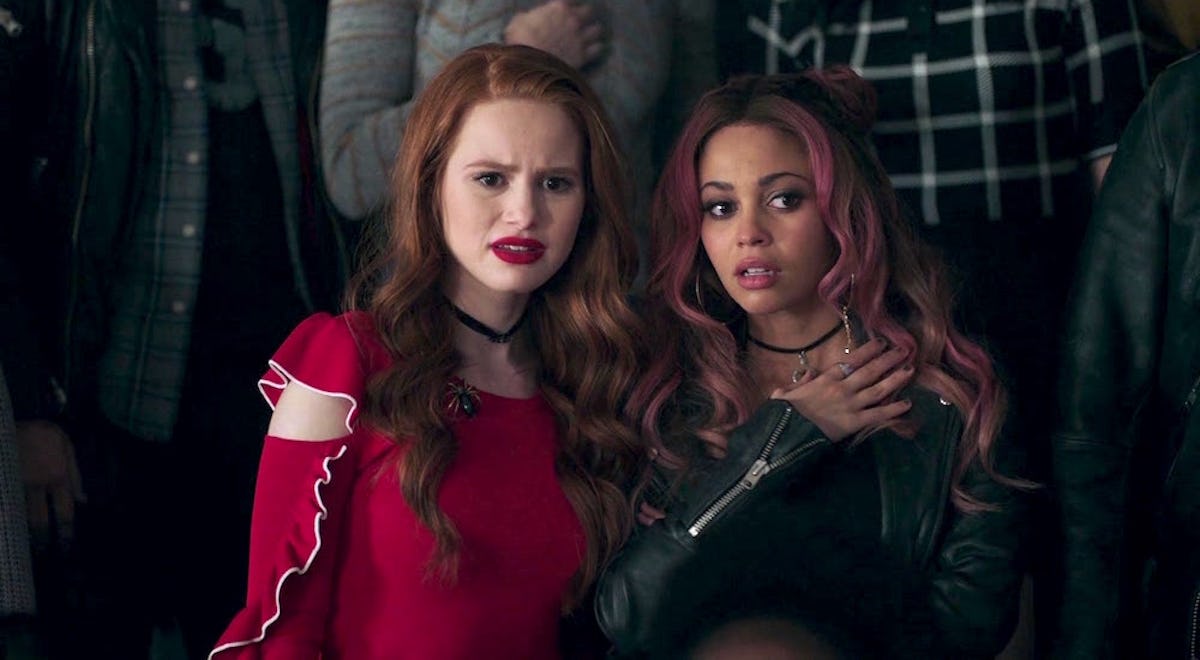 There Are Tons Of 'Riverdale' Season 2 Deleted Scenes On The New DVD & I'm Bugging
CW
Riverdale showrunner Roberto Aguirre-Sacasa has heard the fans loud and clear and he is giving them what they want: more Choni and Falice. Superfans of the CW's dark teen drama are all about shipping their favorite characters, and while Betty and Jughead (Bughead) and Veronica and Archie (Varchie) have their fair share of fans, the two ships that seem to be sailing ahead of all the rest in Season 2 are Cheryl and Toni and F.P. and Alice. Aguirre-Sacasa just revealed that a ton of Riverdale Season 2 deleted scenes are going to be included on the upcoming Season 2 DVD, and a lot of them will be focused on the fan-favorite relationships between Cheryl and Toni and F.P. and Alice.
Although most of the romantic connections on the first season of Riverdale were confined to the four main characters of Archie, Veronica, Betty, and Jughead, the recently concluded Season 2 spread the love to even more characters. Fans were pleasantly surprised to watch one-time mean girl Cheryl Blossom soften her edges (somewhat) thanks to a relationship with Southside Serpent newbie Toni Topaz. And viewers had already been theorizing that something more than just friendship was going on between F.P. Jones and Alice Cooper for quite some time, and Season 2 finally confirmed that the two were indeed former flames that still have a spark.
Roberto Aquirre-Sacasa took to Twitter on Wednesday night to announce that the Riverdale Season 2 DVD (which is due to be released on Monday, Aug. 6) will include no less than four deleted scenes between Cheryl and Toni. He followed that up by promising that there will be a couple of deleted scenes between F.P. and Alice on the disc as well.
A lot of fans have guesses about what these deleted scenes could entail, but one that we already know will probably be included is a cut duet between Cheryl and Toni during the Season 2 musical episode "A Night To Remember." After the episode aired, the Riverdale team shared a deleted scene that involved Toni cheering up Cheryl by singing a song with her. You can check out that clip below:
While it will be nice for fans to get more romantic moments like that one between Cheryl and Toni, it is the Alice and F.P. scenes that have the most potential to really shake things up and possibly reveal some secrets that we had not thought about before. Although F.P. and Alice had a nice reunion and tender moment when Alice informed him that their son Chic may be dead, it is still not clear if they are actually hooking up again or not, and they are also still hiding the extent of their past relationship from everyone else.
Not only could more F.P. and Alice scenes create possible issues for Betty and Jughead (their kids who also happen to be dating), but any chance for viewers to learn more details about what really went on with all the Riverdale parents back when they were kids could be hugely revealing information.
The new DVD will likely include a bunch of other deleted scenes along with these promised ones, and what those might include are anyone's guess. Season 2 was a sprawling crime drama, which started out as an investigation into who the town's new masked murderer the Black Hood could be, and ended with [spoiler alert] Veronica's mafia boss dad Hiram Lodge taking control of everything and throwing Archie in jail. Other secrets that may be lurking within Riverdale could be revealed in the extra features on the Riverdale Season 2 DVD, which will be available on Monday, Aug. 6.