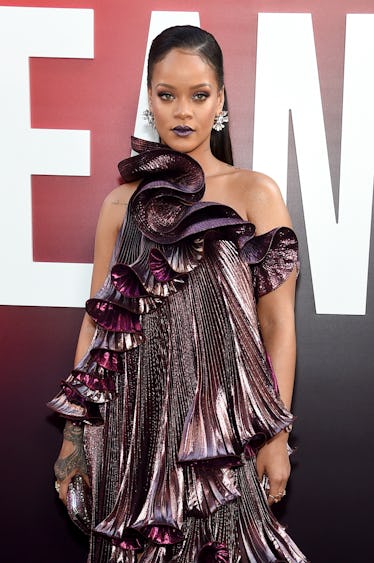 Rihanna Just Got So, So Real About How Unattainable The "Perfect" Body Is
Jamie McCarthy/Getty Images Entertainment/Getty Images
All hail Queen RiRi. Rihanna is gracing the coveted September cover of British Vogue (for context, Beyoncé will be the September cover star of Vogue in the U.S., so Vogue is basically going to have its two best covers of all time soon). In her interview for the issue with British Vogue editor-in-chief Edward Enninful, the singer/beauty and fashion mogul got real about how it feels to be a woman so many women want to be. Rihanna's comments about body image are so refreshing in the midst of the body image topics dominating the news cycle this week (more on this later).
According to BuzzFeed, Enninful asked Rihanna what it's like "being the woman every woman fancies." The singer's response downplayed the question in a humble way. She said, "OK, you're asking the wrong person. I don't know, maybe it's because I'm 'thicc' now."
She said she's going to start up a healthy habit of working out again, but she's hoping that she can maintain her current look while still strengthening and toning certain areas. "I'm about to get back into the gym and stuff," she explained, "and I hope I don't lose my butt or my hips or all of my thighs. I'll lose some but not all." She started talking about her boobs and how they're bound to get smaller when she starts working out a lot again. (My boobs are the first things on my body to lose weight, so this is that #relatablecontent for me.) "And I think of my boobs, like, 'Imma lose everything, everything goes!'" she said.
It's what she said next that was truly the realist: "But, you know, it comes with a price. You want to have a butt, then you have a gut," she explained. You're speaking my language, RiRi.
Her comments about her body are refreshing in the sense that they're so real. Our bodies are always changing, and the way they work often can't align with the unrealistic body standards and ideals we're bombarded with on a daily basis — like the idea that you should have big boobs and a big butt, but somehow also have perfect abs and a non-existent waistline. Yeah, that's not realistic for most people, and seeing an icon like Rihanna talk about the reality of a woman's natural body was a treat.
Rihanna also apparently talked a lot about relationships and connecting with people in her British Vogue interview. She said, "I think a lot of people meet people and then they're dating the idea of what the person could become, and that person never shows up and then they're just mad disappointed." She continued,
A person can always get better, they can always get worse, but you've got to be fine with what you met them as.
That's... some of the most legit dating advice I've heard in a long time? Ugh, why is Rihanna such an all-powerful, all-knowing, wise witch?
Rihanna, you end me.
This week has been a heavy one when it comes to women talking about body image. Kim Kardashian recently posted videos on her Instagram story where she thanked Khloé Kardashian for saying she looked anorexic. I wish I was kidding.
Considering the bonkers triggering videos Kardashian posted, these comments from Rihanna are a breath of fresh air. Not because they're radically bold or call out anyone, more so just because they're so simple and real. There's something to be said about just talking about the truth of the female experience. Rihanna's cover story will be in the September issue of British Vogue, which will be available online and in newsstands on August 3.