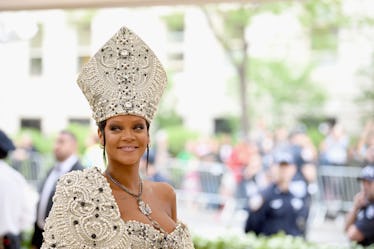 Rihanna Just Gave Single Girls Everywhere The Most Perfect Dating Advice
Jason Kempin/Getty Images Entertainment/Getty Images
Everybody has a piece of wisdom to share when it comes to romance and, TBH, I'd take a lot of people's pearls of wisdom with grains of salt. I mean, let's face it: Not everyone knows what they're talking about. That being said, there's also a decent amount of people with some pretty fantastic advice out there. Such as Rihanna. Recently, in Rihanna's British Vogue interview she dropped some wisdom bombs about love.
Rihanna graces the cover of British Vogue's September 2018 issue and, throughout the interview, she keeps it extremely real. After admitting that she gets "a lot of boy-advice questions," she decides to throw in this absolutely flawless piece of advice:
I think a lot of people meet people and then they're dating the idea of what the person could become, and that person never shows up and then they're just mad disappointed. A person can always get better, they can always get worse, but you've got to be fine with what you met them as.
I think anyone who's ever tried to change someone they dated can agree that it is an impossible feat. Rihanna is right. Don't bother trying to change someone — there are better uses of your energy.
This isn't the first time Rihanna's pulled through with the fantastic guidance when it comes to our love lives.
Back in 2015 she told T magazine:
Guys need attention. They need that nourishment, that little stroke of the ego that gets them by every now and then. I'll give it to my family, I'll give it to my work — but I will not give it to a man right now.
Back in 2016, she warned Vogue readers of the dangers of settling:
I always believed that when you follow your heart or your gut, when you really follow the things that feel great to you, you can never lose, because settling is the worst feeling in the world.
And Rihanna isn't a hypocrite, either. No, Rihanna follows her own advice like it's scripture.
In fact, her recent breakup with billionaire Hassan Jameel was apparently a direct result of her refusal to settle. "Rihanna and him were together for a while," a source told MTO News. "It was a good relationship, but now it's over." Apparently, the source continued that Rihanna just "got tired of him. She gets tired of men sometimes."
And we all know there's no shot Rihanna's going to waste her time waiting around for some snooze of a dude to miraculously become fun.
Later in her British Vogue interview, editor in chief Edward Enninful asked her how she became everyone's girl crush. "OK, you're asking the wrong person. I don't know, maybe it's because I'm 'thicc' now," she responded with a laugh. "I don't know."
Ugh, why can't we all hang out with Rihanna every day? I guess we'll just have to settle for reading this article over and over again until the end of time.
Check out the entire Gen Why series and other videos on Facebook and the Bustle app across Apple TV, Roku, and Amazon Fire TV.
Check out the "Best of Elite Daily" stream in the Bustle App for more stories just like this!