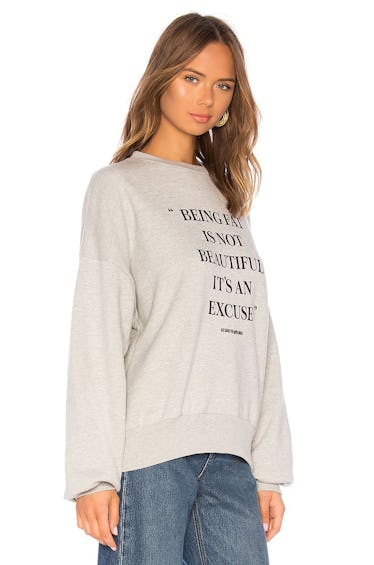 This Sweatshirt Appears To Promote Body Shaming & The Backlash Is Strong
Revolve
Today is a world moving towards body inclusivity and the appreciation of men and women of all shapes and sizes. There's a lot of merchandise out there to promote self-love and reject hate, but there's also some that (sometimes by accident) does the opposite. Revolve's "fat" sweatshirt was meant to bring awareness to a body-shaming quote, but it inadvertently appeared to promote it.
Clothing brand LPA designed the sweatshirt in question, which was sold by online fashion retailer Revolve. Printed on it was the quote, "Being fat is not beautiful, it's an excuse. Underneath that, it gave the origin of the quote, "as said to @palomija." Palomija Elsesser is a well-known plus-size model, but is clearly still subjected to body-shamers. The sweatshirt was intended to bring awareness to this negativity, but, unfortunately, that part of it was not immediately clear.
The sweatshirt was going to be part of a capsule collection with other pullovers printed with comparable, bullying statements. Another one read, "Too boney to be boned, as told to @caradelevingne." Together, these two sweatshirts show the absurd standards that women are practically demanded to fulfill – almost everyone is too fat or too skinny, and it's nearly impossible to feel confident in a world with such expectations. LPA, however, jumped the gun and the sweatshirt with Elsesser's experience on it was quickly taken as fat-shaming.
Plus-size model Tess Holliday (who is also Glamour UK's October 2018 cover star!) was very vocal about her distaste for the sweatshirt. Holliday's tweet helped bring attention to the issue.
London-based artist and activist Florence Given also called out the design. "HOW is this okay?" posted the activist. Given was also able to get in touch with LPA, and got an explanation about the brand's intent.
"...It's a collaboration with five women with the worst troll quotes. The point was to shine the light on how horrible trolling is. The proceeds benefit charity. So basically it's the opposite of what it seems," LPA responded. Given posted these comments as a screenshot on her Instagram, and they appear to be from a direct message with LPA. The brand set straight that the sweatshirts were meant to promote body positivity.
LPA also said, in conversation with Given, that the women who experienced the hate were the ones who provided the quotes for the sweatshirts. LPA mentioned that Revolve, the retailer selling the garments, posted them online sooner than planned and thus without a corresponding campaign to explain them.
Given also points out in her post that the sweatshirts only went up to a size XL, meaning that many of the very women who it was meant to support, may not have even been able to wear it.
Fashion influencer Lotti Lamour posted feedback from LPA about this controversy, too. In this comment, LPA mentions that there was going to be a sweatshirt with a hateful quote that Lena Dunham experienced, as well, but this one has not yet come to fruition.
Elite Daily reached out to Revolve for comment on the controversy, and will update this post when we hear back. In the end, LPA's motive seems to have been positive, but the project, regrettably, did not come out as originally intended.