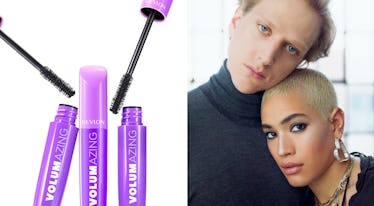 Revlon's Latest Campaign Features A Dancer Who Got Her Head Shaved By Rihanna
Courtesy of Revlon
Back in November 2017, fans of music group N.E.R.D. saw hip-hop dancer Mette Towley take center stage, not only breaking it down, but also getting her hair shaved off by Rihanna for the "Lemon" video. Fast forward eight months, and Towley is now the star of Revlon's Lash Loudly campaign for the beauty giant's new Volumazing Mascara, alongside ballet dancer David Hallberg. In the video, the pair are seen twirling, jumping, and hip rolling in their individuals styles to Princess Nokia's "Flava" — a song that will make even the laziest of people (me) want to get up and dance.
"By creating an emotional connection through music and dance Lash Loudly hopes to inspire others to embrace their individuality and express beauty on their own terms, while challenging them to Live Boldly and think differently," the brand said in a statement.
The aim of the campaign is to push Revlon's mission "to inspire individuals to express themselves with passion, optimism, strength and style" forward. As for the mascara itself, the retailer promises an ultra-creamy formula, that not only builds quickly, but provides a smudge and flake-free finish that will last up to 24 hours. The best part is that you can find Volumazing on Amazon for under $10.
Lash Loudly is an extension of Revlon's larger Live Boldly campaign, launched in 2018, which means Towley now joins the ranks of women like Gal Gadot, Ashley Graham, Adwoa Aboah, Imaan Hammam, and Raquel Zimmermann, who are part of the movement as well.
To find out more about the rising star, Refinery29 sat down with Towley to ask how beauty makes her feel empowered as a performer. "My routine is really defined by my own standards of beauty," she said. "I can be super natural one day, and the next day I can have a huge glam stage look. For me, it's about exploring who I am and accentuating parts of my personality — feeling like there are no rules that apply because I make sure there are no rules."
And yes, she also revealed how her life has changed since having her hair buzzed by an icon. "Before, my routine was all about my hair," she shared, adding that her long locks allowed her to avoid wearing makeup. "Now, there's been this amazing shift for me where I'm seeing parts of my face in a new way and I have more time to invest in my routine because I'm not combing my hair, waiting for it to dry, putting the gel in, making sure my baby hairs are down — and those are beautiful things."
She continued that she enjoyed her curly hair while it lasted, but that she's "really excited about [her] face being the first thing that people notice and connect with."
It seems like sky's the limit for the talented dancer, and with a hit music video and a major beauty campaign now under her belt, it looks like we'll be seeing a lot more of Towley in the years to come.