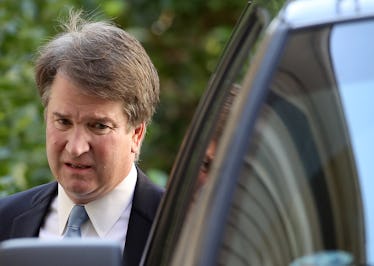 Everyone's Talking About This Major Detail From The Second Kavanaugh Accusation
Win McNamee/Getty Images News/Getty Images
On Sunday, Sept. 23, a second woman accused President Donald Trump's nominee for the Supreme Court, Judge Brett Kavanaugh, of sexual misconduct during his youth. The report, published in the New Yorker, comes just a week after Christine Blasey Ford came forward on Sept. 16 with allegations that he sexually assaulted her at a party in high school. Kavanaugh has denied both allegations, and the White House did not respond to Elite Daily's request for further comment on the allegations. According to the New Yorker, both Senate Democrats and Republicans reportedly knew about Deborah Ramirez's allegations against Brett Kavanaugh as early as last week. Elite Daily reached out to GOP leaders in the Senate for comment on when both members of the Senate Judicary Committee and Senate Republicans in general knew of the allegations, but did not immediately hear back.
According to the report, last week, staff of at least four Democratic senators had received information about the allegations made by Ramirez, at least two of which have reportedly opened their own investigations into the matter. "This is another serious, credible, and disturbing allegation against Brett Kavanaugh. It should be fully investigated," Sen. Mazie Hirono of Hawaii told the New Yorker. Republican staffers were also reportedly aware of the allegations, and reportedly told the New Yorker that they were concerned about what bearing the forthcoming allegations might have on Kavanaugh's chances of getting confirmed. The report does not state which staffers and for which senators. Elite Daily reached out to the staff of Senate Judiciary Committee Chairman Chuck Grassley (R-Iowa) and Sen. Majority Leader Mitch McConnell (R-Kentucky) for comment but did not hear back at time of publication.
"The committee's majority staff learned the allegations made by Deborah Ramirez about Judge Kavanaugh from this evening's New Yorker report," a spokesman for Grassley told The Hill. "Neither she nor her legal representative have contacted the chairman's office. The article reports that Democratic staff were aware of these allegations, but they never informed Republican staff." A spokesperson for McConnell also told the publication, "No, the Senate Democrats didn't inform us of the allegations."
The reports that the allegations were known in the Senate is raising some eyebrows now, given that the GOP has spent the last week pushing for a quick timeline for both additional hearings to address the first set of allegations, and to put Kavanaugh up for a vote as soon as possible.
Regardless of the GOP's denials, the prospect that the party was knowingly trying to hurry Kavanaugh's nomination through before Ramirez's story went public has caused a massive backlash.
"When Senate Republicans heard about a second accuser, they tried to rush the hearing without subpoenaing Mark Judge and other witnesses," tweeted former federal prosecutor Renato Mariotti on Monday. "When the White House heard the news, they attacked her for coming forward."
Democratic Sen. Kirsten Gillibrand also called out her Republican counterparts in the chamber for supposedly trying to "rush a vote" knowing Ramirez's story would soon follow. "They deny Dr. Ford an FBI investigation, won't subpoena corroborating witnesses, and now, this," Gillibrand tweeted Sunday. "It's an embarrassment. They have absolutely no interest in the truth."
Meanwhile, Rep. Ted Lieu, Democrat of Florida, called Ramirez's allegations "very disturbing," and added, "You know what else is disturbing? Republicans renewed calls to accelerate the vote when they were told about this allegation last week."
In the New Yorker story on Sept. 23, Ramirez alleged that Kavanaugh had exposed himself to her at a college party when they were both at Yale in the early 1980s. Previously, Ford had alleged that Kavanaugh had sexually assaulted her at a high school party, also in the early 1980s. Kavanaugh has denied both allegations, saying in his most recent statement, "This alleged event from 35 years ago did not happen." Representatives for Kavanaugh did not respond to Elite Daily's request for comment on either allegation.
Ford initially came forward with her story to Democrats in Congress via a letter which was reported by the New Yorker on Sept. 14, and publicly identified herself on Sept. 16 via The Washington Post. After a tense back-and-forth with the Senate Judiciary Committee, Ford is now set to testify to the committee about her allegations on Thursday, Sept. 27.
Per a statement sent out on Sunday, Sept. 23, it appears that the White House was ready to do damage control on the Ramirez story as well. The statement, as shared by CNN's White House reporter Kaitlin Collins on Twitter, includes bullet points laying out what it presumably views as weak points in her account that might be used to publicly call into question.
Thanks to ongoing reports and the timelines surrounding them, the situation has compounded itself in such a way that the GOP, reportedly looking to cast doubt Ford and Ramirez, now has little leverage to do so, as Post blogger Jennifer Rubin points out. In a series of tweets Friday, Trump cast doubt on Ford's account by questioning why she hadn't come forward sooner, causing a tidal wave backlash with the hashtag #WhyIDidn'tReport trending on Twitter, with people sharing their stories of why they delayed or chose not to tell authorities about the abuse they endured. Given that the ample reasons why survivors don't come forward sooner are now laid out in these tweets for all to see, there's little space for the Senate Republicans on the committee to use this line of questioning against Ford.
If anything is clear at this point, it's that the political chess game is far from over, and what is publicly known about Kavanaugh and Ford — and now, Ramirez — will likely continue to come out this week, either by testimony or otherwise.