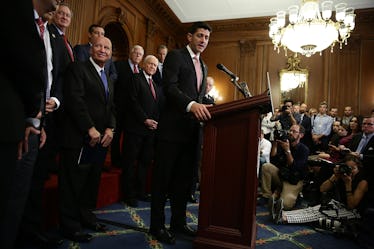 House Republicans Are Supposed To Vote On A Bill That Could Make Mass Shootings Worse
Alex Wong/Getty Images News/Getty Images
The nation is grieving the lives of the at least 58 people who were killed and another 500 who were injured after a shooter opened fire at a concert in Las Vegas, Nevada on Sunday, Oct. 1. Amidst all the other political tension the tragedy has already spurred, Congress is getting ready to vote on a controversial bill that some say could make mass shootings more frequent or deadly. Politico reports the House of Representatives is expected to vote soon on a bill that rolls back restrictions on gun silencers.
The bill could be voted on as early as this week, the San Francisco Chronicle reports. It is being pushed by Rep. Jeff Duncan (R-SC), per Politico, who had postponed the bill after Rep. Steve Scalise (R-LA) was shot durng a Congressional baseball practice in June. The provision, which would make it easier to buy a silencer, is called the Hearing Protection Act of 2017 and is part of a larger bill called the Sportsmen Heritage and Recreational Enhancement Act, or "SHARE" Act. It's being promoted by some GOP lawmakers as a way to make hunting safer by suppressing the sound of rifles, therefore preventing hearing damage.
Per the Chronicle, the SHARE Act would also include provisions that would open up endangered species to hunting and allow for the conditoinal sale of "armor-piercing bullets."
Already, the prospect of the SHARE Act going through is causing an uproar on social media as people are concerned about how silencers could make mass shootings more deadly by making it harder to identify the sound of gunshots or tell where they're coming from.
Rep. Doug LaMalfa (R-CA), one of the bill's proponents quoted in the Chronicle, said of the bill,
It isn't a silencer because it still makes sound, but what it does is cuts the percentage of the noise down to make shooting sports a little nicer for people's hearing.
The bill has its critics. Senior policy advisor for Americans for Responsible Solutions Dave Chipman testified to Congress in September about the bill. Per ThinkProgress, he said,
Congress is promoting a bill that would make a [shooting] potentially even more dangerous by putting silencers in the hands of criminals, and making it difficult for people — including law enforcement officers — to identify the sound of gunshots and locate an active shooter.
If passed, this would be the first bill to roll back gun safety protections, according to ThinkProgress. But already this year, the Trump administration has made it easier for people to get guns. In February, President Donald Trump signed a bill revoking an Obama-era policy that required background checks that addressed mental illnesses. And after spending a record-breaking $30 million on his campaign, according to Bustle, the National Rifle Association (NRA) was promised by Trump at a speech in April that he would be a fierce advocate for the Second Amendment and the advocacy group.
President Trump's son, Donald Trump Jr., was already in support of the silencer bill before the Las Vegas shooting, International Business Times reports.
John Feinblatt, president for Everytown for Gun Safety, a gun control advocacy group, gave his thoughts on the silencer bill. Per Politico, he said,
NRA leadership and their friends in Congress have gone behind closed doors to try to prop up lagging gun sales by making it easy for anyone to buy a silencer without a background check.
Activists, advocates, and concerned citizens of all stripes were outspoken on social media about the bill's prospects in a national debate on gun control and how best to handle the increased gun violence.
Whether the bill will actually get voted on this week is unclear, as it is not currently on the voting schedule for the House. But either way, people are worried about what it will mean for a nation already suffering from gun violence if the silencer bill goes through.