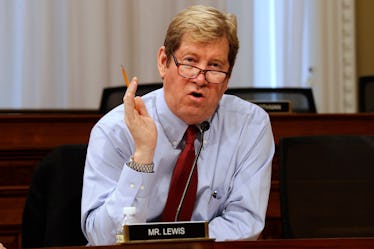 This Congressman's Comments About Women Just Resurfaced & They're So Trash
AP/Shutterstock
Sometimes I forget we're in the 21st century. I mean, opposition to feminism is nothing new, but Rep. Jason Lewis' comments about calling women "sluts" really take things to another level. On Wednesday, July 18, CNN published a report detailing a slew of misogynistic remarks the congressman from Minnesota made on his former radio show over the years, including bewailing that women can no longer be called "sluts" — and it's all truly upsetting.
CNN's KFile reportedly combed through hours of audio from the congressman's radio program the "Jason Lewis Show" that ran from 2009 until 2014 (before he was elected to Congress in 2016) where he can be heard repeatedly making demeaning comments about women. In one particular instance back in February 2012, fellow radio host Rush Limbaugh can be heard disparaging feminist activist and then-Georgetown University law student Sandra Fluke, who testified to Democrats in Congress about birth control; Limbaugh called her "a slut" on his own show.
Lewis followed up on his own show by expressing his disbelief and sorrow that women could no longer be referred to as such a term, saying:
Well, the thing is, can we call anybody a slut? This is what begs the question. Take this woman out of it, take Rush out of it for a moment. Does a woman now have the right to behave — and I know there's a double standard between the way men chase women and running and running around — you know, I'm not going to get there, but you know what I'm talking about. But it used to be that women were held to a little bit of a higher standard. We required modesty from women.
He added, "Now, are we beyond those days where a woman can behave as a slut, but you can't call her a slut?"
But there's more. In a recording from August 2012, Lewis said that women were more likely to vote for Barack Obama than Mitt Romney because they are "guided by more emotion than reason."
And in yet another taping, Lewis — who had been dubbed as "America's Mr. Right" in his show's tagline — said women who vote for birth control access over other issues aren't human beings and don't have brains. He said:
You can be bought off for that? I mean, boy, that's the, all the other issues: the Hispanic problem, social issues, class warfare, you know, we can figure out a way to tackle those. This one, if you're that far down the road and you say you're a human being, I've got my suspicions. You're not, you're without a brain. You have no, you have no cognitive function whatsoever. If that's all it takes to buy you off.
Lewis' campaign manager, Becky Alery, immediately tried to dispel some of the rising concerns surrounding the comments, telling CNN, "This has all been litigated before, and as Congressman Lewis has said time and time again, it was his job to be provocative while on the radio." Elite Daily reached out to representatives of Lewis for additional comment on his statements, but did not immediately hear back.
But Lewis himself echoed a similar comment to CBS News, telling the outlet that the issue had previously been litigated and his comments were taken "out of context." He also appeared to indicate they were a part of a smear campaign for his run in the upcoming 2018 midterm election.
Unsurprisingly, many people still weren't feeling the comments.
Even EMILY's List — a national political action committee that works to help elect pro-choice female Democrats — criticized Lewis. In a statement shared with Elite Daily, Christina Reynolds, EMILY's List vice president of communications, pointed out the opportunity to vote Lewis out of office, replacing him with Democrat Angie Craig in the upcoming election, saying:
Time and again, Jason Lewis has shown us just how little he respects or understands women. In November, women — and all of our allies — have an opportunity to return the favor by sending him home and replacing him with Angie Craig, a qualified woman who will respect all of her constituents.
It's clear that Lewis is pretty straight-forward with his feelings and beliefs. But when it comes to talking about women, he might really want to consider staying quiet.