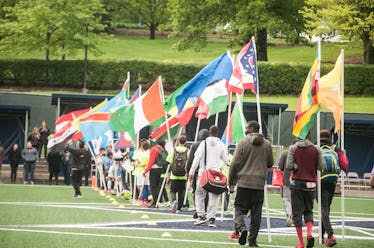 This Ohio Community Is Bringing Refugees Together Over A Soccer Tournament
RefugeeConnect
On Saturday, June 23, the local Cincinnati, Ohio community will converge on the soccer field at Xavier University where, for the fifth annual time, RefugeeConnect is hosting a World Refugee Day soccer tournament. Just as Belgium and Tunisia face off at the World Cup in Moscow, the Cincinnati community is using the spirit of friendly, international competition to bring people together. The World Refugee Day Cup, which happens around World Refugee Day, will feature matches for both adult and teen soccer teams as well as food trucks, family activities, and awards for scholarships and community work.
"What we have found is that soccer is the universal language across nations," Robyn Lamont, the Executive Director at RefugeeConnect, tells me in an interview for Elite Daily. "Although people might be new to the culture and speaking English, it's a way to break down barriers and come to the community."
RefugeeConnect, a Cincinnati-based organization to bring resources and communities together, was founded in 2013 by the Junior League of Cincinnati, itself a women's organization dedicated to the community. Women continue to lead RefugeeConnect, and five years ago they began the annual soccer tournament. Originally, it was a much smaller event held at a high school for some soccer games. Over the years, it has grown. Now, it's held at a university, with food trucks and activities from the local zoo and Cincinnati Museum Center, as well as artwork from local arts organization.
Plus, Alicia Kappers, one of RefugeeConnect's founders, tells me, "It's some really excellent soccer. The skill level is unbelievable."
For Mirsada Kadiric, president of the board at RefugeeConnect, seeing the community come together for this soccer tournament has a more personal resonance. In 1998, she came to the U.S. as a refugee from Bosnia, and she has "very vivid memories of how that initial transition was and how difficult it was just to start over." That was long before RefugeeConnect existed, and Kadiric says coming to the States, she felt very isolated and alone.
"I think it makes the world of difference just knowing that somebody is there to help you navigate these new waters, this new life," Kadiric says about the difference RefugeeConnect makes for refugees arriving around Cincinnati these days.
Recently, Cincinnati has been seeing fewer refugees moving into the area, largely thanks to policies from the Donald Trump administration that limit the national number of refugees taken into the country. Before the effect of those policies, the city had seen 278 refugees resettled by Catholic Charities in 2017 and 333 in 2016, according to The Cincinnati Enquirer.
While the World Refugee Day Cup is a fun day of matches and games, the organization also uses it as an opportunity to award some members of the community. RefugeeConnect gives out community impact awards to individuals, agencies, and volunteers who exemplify their core mission of being a proactively welcoming space.
The organization also gives out scholarships to refugees seeking higher education; this year, they are giving out 10 scholarships of $1,000 each. The scholarships are given in honor of Dean Razzak, the son of Alicia Kappers and her husband (who came to the U.S. as a refugee), who died as a baby, with funding coming from various sources around Cincinnati, from the Junior League to local high schools and a Jewish temple.
Ultimately, the soccer tournament is a day of joy, where people can come together while simultaneously celebrating their own individual culture, background, and, of course, soccer skills. Soccer has become a global sport, especially given the lack of necessary, specialized equipment to play, and thus, it is an excellent way to connect people. As the organizers explain, on the field, you're not a nameless "refugee" — you're a teammate with your own abilities and personality, freed from a loaded label.