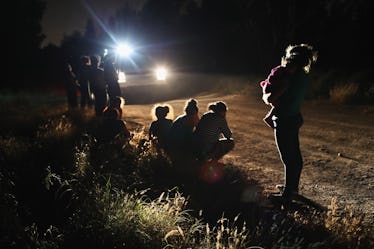 Today Is World Refugee Day, So Here's What You Can Do To Help Children & Families
John Moore/Getty Images News/Getty Images
A telling quote by Nelson Mandela is on one CEO's mind this week: "There can be no keener revelation of a society's soul than the way in which it treats its children." That's the case for Caryl Stern, head of the United Nations Children's Fund (UNICEF) USA. This week especially, the quote has more relevance than ever. If you're angered by what's happening at our own U.S. borders, you're probably angered by what's happening beyond them, so I spoke with Stern about how you can help refugees on World Refugee Day in an interview for Elite Daily.
As many Americans are growing outraged at the developing crisis at the U.S. border — thanks to a new policy by President Donald Trump's administration that's led to some 2,000 children to be separated from their parents — it's one of several global crises impacting children who've had to flee their homes. Some two-thirds of the world's refugees come from Syria, Myanmar, Afghanistan, South Sudan, and Somalia.
"If any kid is experiencing trauma, it's bad," Stern says. "But while this amazing crisis [at the U.S. border] is taking place, we're still dealing with all the other crises."
According to data by the United Nations Refugee Agency (UNHCR), there are over 68 million forcibly displaced people worldwide; about 50 million of them are children. Per data provided to Elite Daily by UNICEF, some 30 million children have been forcibly displaced due to conflict in their home countries, more than at any other time since World War II.
As for refugees specifically, some 25 million of the world's total displaced people are refugees, and it's estimated that half are minors.
"Children are being victimized by the policies of adults," Sterns says. Of the U.S. border crisis specifically, she adds, "The net result is they're being used as pawns. They're at the center of a controversy that isn't theirs."
The problem has also gotten worse over the years. The numbers have increased five-fold in the past few years, with 300,000 children displaced in 2015 and 2016 alone. But because most of the these refugees aren't ending up at U.S. borders, she guesses that most Americans have largely not seen and felt it in the same way that other countries have. (For the record: Developing countries still take in the lion's share of the world's refugees.)
Stern, though, has seen refugee camps firsthand. She tells me about one interaction she had with a Syrian father in Jordan "'I had a house, I had a car, my children had laptops.' He must've said this to me 20 times," she recalls the father telling her. "And then he tried to show me what life was today: A tent."
Stern's own mother was a child refugee, she tells me, who fled the Nazis in Austria, arriving to the U.S. with her brother. "She was welcomed by a country that provided her with safety and security."
While it's important not to lose sight of the crisis at the U.S. border, it's also important to look to the other children around the world who are "sleeping on rocks," she says. "They're not 'ors,' they have to be 'ands.'"
If we don't do something with these 50 million kids, we're going to have an even bigger crises on our hands.
Meanwhile, the problem of having millions of child refugees — many of whom have not had adequate schooling and have been exposed to trauma and severe hardship — won't simply go away with time and will have lasting impacts on the world. "If we don't do something with these 50 million kids, we're going to have an even bigger crises on our hands," Stern says.
In fact, numerous advocates and pediatricians have spoken out with concerns about not just the short-term impacts of displacement, but long-term effects, including physical, emotional, and psychological damage.
"How awful would it have to be for me to even send a child away?" Stern, a mother and grandmother, asks aloud, noting that most children have no say in where they go. "Home is home, and no one leaves willingly."
So, how can you help? First, Stern says, adjust your viewpoint. "We need to see these kids for what they are," Stern says. "Stop calling them migrants, stop calling them refugees — call them children, because that is what they are."
She asks citizens and lawmakers alike to think this way when voting and making decisions. "See children as children," she adds, "and put children first."
The second way people can help — though it may sound obvious — is to donate or provide assistance in some form to organizations working to help refugees, children especially. She cites UNICEF, CARE, UNHCR, and Save The Children — any reputable organizations working to improve both conditions on the ground for those who've been displaced, and working to tackle the root causes that lead to their upheaval in the first place. And as always (this is my own two cents), it never hurts to educate yourself and others about the problem.