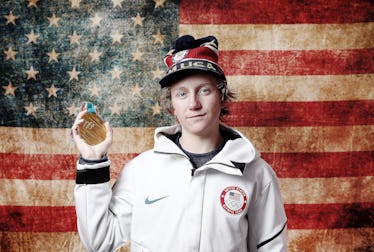 Red Gerard Would Like You To Know He Didn't Oversleep That Much At The Olympics
Marianna Massey/Getty Images Sport/Getty Images
Red Gerard, the 17-year-old snowboarding phenom who won the gold in slopestyle at PyeongChang in February 2018, openly admits that he generally tries to be "pretty chill ... easy-going, mellow." But as Gerard goes through his post-Olympics plans, he's got a bone to pick with the press. That he says this to me, a member of the press with whom he's doing an interview over coffee on a blustery morning in New York after the Winter Olympics wrapped up, is indicative of who he is: a teenager taking life a day at a time who had no dreams of grandeur heading into PyeongChang.
Gerard's slopestyle win came early in the games and was the U.S.'s first gold medal at PyeongChang. His win also represented one of the first viral stories out of the games. Gerard, who is sponsored by Mountain Dew won that medal after falling asleep while watching Netflix, oversleeping, and losing his jacket. And then, he cursed in excitement on live TV while his family shotgunned beers during the early morning competition. It was, in short, a true American Dream tale that spread easily from publication to publication (and, yes, Elite Daily wrote about it, too. It was a great story!).
"But [the press] obviously blew that way out of proportion. It was more like I slept in, hit the snooze button, and then woke up like 5 minutes later," Gerard insists, smiling as he rolls his eyes in typical teen fashion. He did, however, actually lose his jacket and had to borrow one. "But it was pretty typical — everyone loses their jackets!" (And as for the shotgunned beers? "My family's pretty known to, uh, 'have a good time.'")
Outside of that jacket slip, "everything went smooth," Gerard says, and his medal-winning run proves that. Still, he did not head to the games thinking he'd win — he was "psyched just to make the team" in the first place. "It was super easy for me, just because all I wanted to do was just land my run. I say that going into every contest; I don't really care what happens, I just want to land my run, and then after that it's up to the judges — I have no control. I was just happy that I landed a run at the Olympics," Gerard says.
He competed in both the slopestyle and big air competition at PyeongChang, which came at the very beginning and tail-end of the two-week games. In between, he dropped by Los Angeles and New York for some press appearances, which was a bit of a bummer, he says, because he didn't get to watch as many of the other sports as he wanted to. However, Gerard's favorite part of the overall experience wasn't the competitions, but rather a night he spent with his girlfriend (he's been dating fellow snowboarder Hailey Langland for about two months) and his family where his parents were staying outside of the Olympic Village. "We went out to dinner and then had a fun little night with them and just slept over there, and that was probably my funnest time at the Olympics actually, it was the best memory," he says.
Gerard started snowboarding when he was around 2 years old and got more involved when his family moved from Cleveland to Colorado when he was 7. He realized he might actually be pretty good at this thing when he made the U.S. rookie team four years ago, which was "probably one of the better days of my life."
The teenager has been enjoying his newfound fame, and he's "psyched" to be throwing out the first pitch for the Cleveland Indians' home opener game, once he gets to practice his throw, of course. As for rumors that he's visiting the White House, Gerard says he's not opposed to making the most of the opportunity, although "I literally don't even know what I'm doing tomorrow."
When it comes to the distant future — say, 2022 — Gerard's just letting it come as it comes, and is "clearly not motivated" to train right now, although he is hoping to take a trip to Mexico and the southern hemisphere this summer with his brother and Langland. He says he'll reevaluate how it's all looking in two years to decide about making a push for the next Winter Olympics. And anyways, he's got school to catch up on (he does online classes and plans to catch up this summer to get his high school degree).
Looking to the future, Gerard mostly just wants to get back on the snow as soon as possible. "I really take things day-by-day and try never to think ahead," he says. "I cannot wait to get back to snowboarding, though, I can't explain. I've never missed it so much."