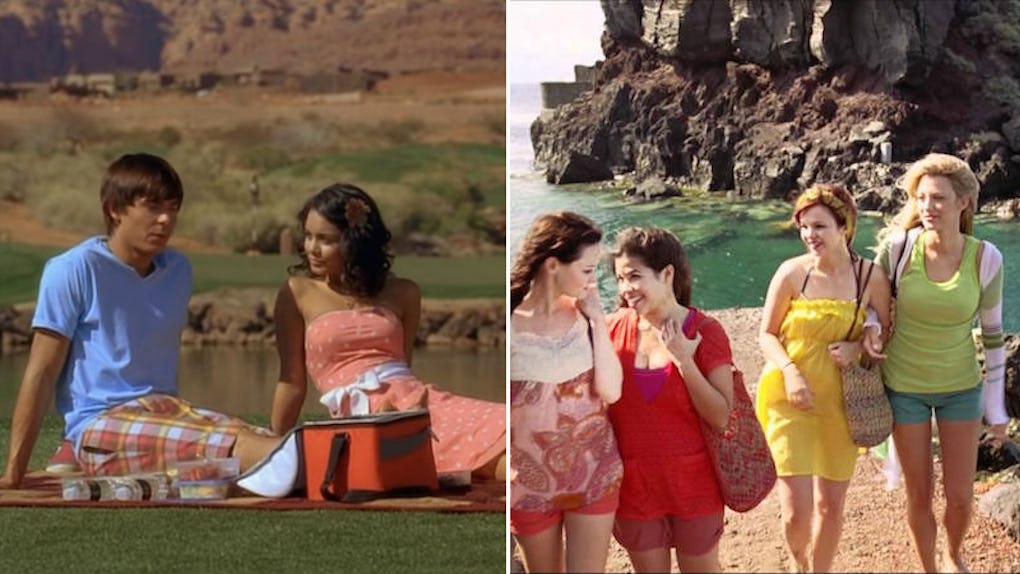 YouTube
Recreate Your Favorite Movies From The '00s By Visiting These 8 Places
Have you ever reminisced watching one of your favorite movies from the '00s (truly, a golden era of teen movies), hoping you would someday find a love like Troy and Gabriella's from High School Musical, or dance down the streets of Barcelona like the Cheetah Girls? If you've ever dreamed of living out your childhood fantasies, here are some places you need to visit to recreate your favorite movies from the '00s.
Teen movies in the '00s were filled with fun songs, iconic dance moves, and — usually — a pretty gorgeous backdrop. (Honestly, I blame Lizzie McGuire for my immense need to travel to Rome.) One could argue that some movies gave us unrealistic expectations as to what high school was supposed to look like, but part of me always dreamed that I would casually find out I have a pop-star doppelgänger, or that my best girlfriends and I would find a pair that fits all of us perfectly.
Needless to say, all of the '00s teen movies have a special place in my heart. Whether you're planning a movie-themed trip or just happen to be in one of these cities, make sure you check out these iconic spots from some of the best teen films of the '00s.
1. The Firehouse From 'The Princess Diaries' (San Francisco, California)
Growing up, you likely wanted to have an eccentric life like Mia and Helen Thermopolis from The Princess Diaries. Rock climbing, painting with balloons and darts, scootering to school, and living in a refurbished firehouse seems like the kind of artsy life that just screams San Francisco.
Back in November 2014, Mia's humble abode was on the market for almost $2.3 million, according to Curbed San Francisco. (Let's be real: If I had that kind of money, I'd probably have bought it already.) If you don't have $2.3 million lying around, you can visit it at 724 Brazil Ave. in San Fran's Excelsior district. (I visited it myself the last time I was there!)
2. Entrada At Snow Canyon Country Club, AKA Lava Springs Country Club From 'High School Musical 2' (St. George, Utah)
Home to one of the most romantic scenes to have ever graced Disney Channel (in my personal opinion), the Entrada at Snow Canyon Country Club turned into Lava Springs Country Club for one of your favorite teen movies, High School Musical 2. If you're thinking of heading to Utah for a quick recreation of "Bet On It," you might not be greeted by hunky Zac Efron, but you will catch some feels for the #views.
3. Parque Güell From 'The Cheetah Girls 2' (Barcelona, Spain)
TBH, you probably picked a college that had a study abroad program in Spain, just so you could dance through Barcelona's Parque Güell singing "Strut" like the Cheetah Girls at the top of your lungs. Though you might not have a beautiful guitar-playing man following you around, you can easily access the beautiful Monumental Core of the park with a ticket purchase (7.50€ for adults).
4. The Trevi Fountain From 'The Lizzie McGuire Movie' (Rome, Italy)
Though it's one of Rome's most recognizable (and crowded) tourist hotspots, for me, it will forever be known as the spot where Lizzie met Paolo. (Sing to her, Paolo.) Any gal who does it for the 'Gram absolutely needs to recreate Lizzie's dramatic coin toss (complete with a hair flip) and Boomerang it for the whole world to see.
5. Oia Village From 'The Sisterhood Of The Traveling Pants 2' (Santorini, Greece)
Everything about Lena, Carmen, Tibby, and Bridget's story was something I wanted as a kid: Gal pals who I met when I was still in the womb, a pair of pants that had a lifetime's worth of memories in its threads, and an impromptu trip to one of the most beautiful islands in the world. If you're thinking of planning a girls' trip that includes riding donkeys up cobblestone steps and posing in front of cliffs that hang over crystal clear waters, look no further than Santorini.
6. Convocation Hall At The University Of Toronto — St. George From 'Mean Girls' (Toronto, Ontario, Canada)
7. "Two Places At Once" From 'A Walk To Remember' (North Carolina And Virginia)
Throwing it back to the early '00s (and Mandy Moore's career as a teen movie queen), A Walk To Remember was one of the first movies that made us '90s babies fall in love with love. In the movie, Landon helps Jamie cross a bunch of things off her bucket list when he finds out that she has cancer. One of those is to be in two places at once, so he takes her to the state line between North Carolina and Virginia. Though we don't actually know which part of the state line he took her to, we do know that the movie was primarily filmed in Wilmington, Atkinson, and Southport, North Carolina.
8. BONUS: The Steps Of The Metropolitan Museum Of Art From 'Gossip Girl' (New York, New York)
So this isn't technically from a movie, but I'd be remiss if I didn't mention the steps of the Met. I'll admit that I've brought a friend or two here to catch up over some snacks from Dean & DeLuca (Gossip Girl recreations call for bougie munchies). I also love keeping an eye out for a potential Blair or Serena — the Met is surrounded by elite Manhattan private schools, after all. And in case you're wondering, the best spot to sit is right in the middle: You're high up enough to see your kingdom, but not so high that you're in the way of people exiting the museum.
Next time you're planning a trip, keep these places in mind for a fun '00s teen movie-themed detour. So fetch!