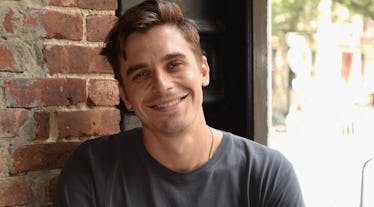 'Queer Eye's' Antoni Porowski Is Opening An NYC Restaurant, So Get Excited
Andrew Toth/Getty Images Entertainment/Getty Images
In case you don't already know, really big things are happening for the cast of Netflix's original reality series, Queer Eye. To start, the Fab Five recently began filming their third season of the Bravo reboot in Kansas, and earlier this month, the show was nominated for not one, not two or three, but four freaking Emmy awards. Really, though, how rad is that? In terms of the cast's latest achievements, Queer Eye's Antoni Porowski is opening an NYC restaurant, and Twitter truly cannot believe.
Antoni is opening a fast-casual joint in the West Village, along with hospitality professionals, Eric Marx and Lisle Richards, according to Eater. The three of them are partners in crime behind a major hospitality group called Metric, and their latest creation is set to reflect a concept of "a wholesome yet fulfilling lifestyle." It's going to be based off the now-defunct Village Den, which was located at 225 West 12th Street at Greenwich Avenue. It shut down this past May after a whopping 36 years, and while Metric's creation is set to be a reboot of the diner, it's going to have quick counter service, serve customers all day, everyday, and it will cater to various lifestyles and food restrictions. Even if it weren't created by my one true love, it would probably sound awesome anyway, and clearly, Twitter is almost as excited as I am, as you can see from the tweets below.
Many of my fellow Antoni fans are simply hyped because Queer Eye's very own Food and Wine expert is opening a restaurant. Really though, who wouldn't be stoked for that gorgeous hunk to succeed? After watching that man construct so many delectable dishes, it's clear he deserves his own joint. #Antoni4Life
Some Queer Eye fans even have a few great ideas in mind for Antoni's soon-to-be restaurant, and knowing him, I'm sure he'll be open to hearing them. He's always down to outsource ideas (hello, he gave up his spotlight to a chef at an actual Indian restaurant to learn how cook authentic Indian food!). TBH, that's what makes him so special.
Queer Eye is a beautiful show that is made possible by several beautiful people. And while I'm a major fan of each and every Fab Five member, Antoni is most definitely my favorite, without question. He can do no wrong. His simple salads and dip recipes manage to satisfy my typical impatience and hangriness, while his jokes, looks, and fashion sense (quite easily) manage to keep me sane. I have absolutely no idea what I would do without him in this cruel world. Now that he's going to open a restaurant, I can give him all the love and support he deserves.
While I'm hella hyped for all of the Fab Five's endeavors, I seriously cannot wait for Antoni's upcoming restaurant (in case you couldn't already tell). Knowing him, it's going to be very à la mode and will hopefully have a few Strokes posters hanging around. Until then, I guess I'll just be living off of Antoni's avocado and grapefruit salad.