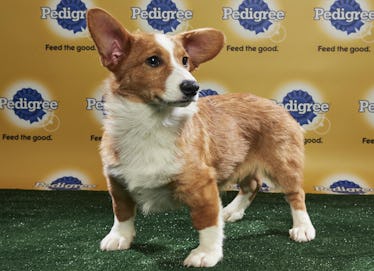 You May Start Seeing Puppies On Tinder Soon & It's For The Best Reason
As football fanatics gear up for the Super Bowl next month, fans of adorable puppies everywhere will be prepping for the cutest sports event on television: The Puppy Bowl. The competition featuring your favorite furry pals takes place on the same day as the Super Bowl, and like the big game itself, the Puppy Bowl is not wasting any time when it comes to hyping the canine competition. In fact, you'll even see the pups as you aimlessly swipe through your dating apps once these athletic puppies are on Tinder for a great cause.
Yes, you read that right, the puppies participating in Puppy Bowl XIV will have their very own Tinder profiles beginning on Jan. 22, according to The Hollywood Reporter. Of course, when you swipe right on the pups, you won't be finding out if Bear, an American Staffordshire Terrier on Team Fluff, likes you back. What you will get to do, though, is swipe right to donate to the American Society for the Prevention of Cruelty to Animals (ASPCA), which will help shelters across the U.S.
So, you get to browse adorable photos of puppies and help a great cause in the in the process. That's what you call a win-win.
In the event that you get very much used to seeing the cutest puppers ever on your phone screen while wading through actual potential suitors, you'll be a little bummed to know that puppy Tinder will only last through Sunday, Feb. 4 — when Puppy Bowl XIV airs on Animal Planet.
But hey, look at the bright side, you'll have two full weeks filled with all things Puppy Bowl — and plenty of time to donate to the ASPCA.
Oh, and the cutest puppies invading your Tinder isn't the only way to gear up for the fierce, furry competition.
Georgetown Cupcake is celebrating the big game by, once again, crafting custom confections in the form of Puppy Bowl cupcakes. If you live near a Georgetown Cupcake location, you can get your hands a sweet pre-game snack that celebrates your favorite pups. There's no word on when they'll be available this year, but according to their 2014 cupcake celebration, they were for sale the week of the Super Bowl.
If you happen to have a beloved pup of your own, they can get in on the action, too. Beginning Jan. 16, BaubleBar will be selling eight exclusive pieces in honor of Puppy Bowl XIV. You can choose from decking out your furry friend from four custom collars or one of the four custom leash styles. Your own pup will surely be styling while sporting one of the metallic leather or velvet pieces. In the spirit of giving back, 15 percent of the proceeds will go to Social Tees Animal Rescue, which is a New-York based non-profit organization that rescues abandoned animals from kill shelters.
So, once again, you can celebrate and support all at the same time.
If you're not familiar with the Puppy Bowl, then you have been missing out. Don't worry, though, because as strong as it is going, it'll likely be around for a while. Also, the premise is so cute, that I'm not sure Puppy Bowl fans would ever let it end.
The first Puppy Bowl aired on Feb. 5, 2005, and it featured puppies that were adoptable from animal shelters in a lighthearted puppy "football" game. The Most Valuable Pup (MVP) was chosen as the dog that scored the most goals with the pet toys provided on the playing field, according to Animal Planet. Although, I think the real winners are the at-home viewers of this adorable display of puppy greatness.
Today's format is pretty much the same, and if you want to get a good read on the participating pups, you can check out the Puppy Bowl XIV lineup to see which dogs are really brining it this year. Spoiler: they all are — as long as you're judging on their ability to make you smile. So, check out the pup-competitors, swipe right for a good cause, and get ready for Puppy Bowl XIV on Sunday, Feb. 4.