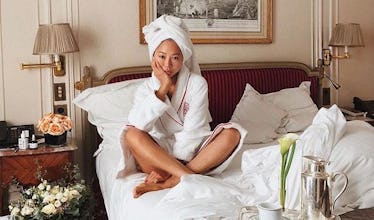 7 Beauty Products For Better Sleep, Because I Woke Up Mad At My SO After A Bad Dream
If you've ever woken up angry at somebody for what they did in your dream, you're not alone. I got out of bed this morning almost too upset to text my husband back for what he did in my dream, so I'm loading up on products that make you sleep better in hopes that I won't put him through another irrational silent treatment again.
So, in my dream, my husband, Jerry, somehow convinced me it would be a good idea to let him go on a date with another woman. While some people can make open relationships work for them, this would never fly in my real life. I was crazy to give him permission to go to dinner, but I wasn't crazy enough to sit home and wait for his date to be over, so I went to the restaurant and spied on them. I'm not kidding, I'm actually getting fired up right now as I relive it all over again.
He sat at a table with a young woman — she must've been around 20. She was cute and bubbly. They looked like they were having a great time. My heart sank so deep into my shoes that I paid my tab and went home and cried. OMG! I feel like I'm holding back tears again. *Starts chanting, "it was only a dream, it was only a dream, it was only a dream."*
So before I continue to paint a picture that Jerry is this manipulative womanizer, he's actually great! When I told him about my unfortunate night's sleep, he was super sweet about it.
I know he could never do something like this to me in real life and I totally get it was just a dream, but even still, I had a hard time snapping out of it. So, to make sure I never wake up mad at Jerry for something completely made up in my subconscious, I'm shopping for some bedside essentials that ensure a restful (not stressful) sleep every night.
If you've ever woken up mad at your significant other, your best friend, or you mom for something they never did, here are the products you need to load up on ASAP. Here's to never getting fake cheated on in your dreams ever again!
Maximize Your Beauty Sleep
Shemana Dream Therapy Mist ($28, Free People) contains the essences of jade, apophyllite, and black onyx, which purportedly help stir your memories during sleep and suppress fears.
The potent blend with lavender in ThisWorks Sleep Plus Pillow Spray ($46, This Works), releases aromatherapeutic benefits as you sleep. If you have trouble staying asleep throughout the night, this is your saving grace.
Your skin recovers while you sleep, so this Dermalogica Sound Sleep Cocoon ($80, Dermalogica) not only nourishes skin, its blend of motion-activated French lavender essential oil works to keep you asleep all night. By morning, you'll look rested and your skin will look healthier.
How pretty is this aromatherapy spray? It even has amethyst crystals sunken at the bottom of the bottle. The Pacifica Dream State Aromapower Micro-Batch Spray Perfume ($24, Pacifica Beauty) is a blend of lemon and jasmine that heightens creativity and intuition and gives you a sense of calm.
Speaking of Jerry, he's actually so hooked on these. Packed with melatonin (among other sleepy-time ingredients), these Olly Restful Sleep gummies ($14, Olly) boost your body's natural sleep hormone, mellow your mind, relax your body, and calm your senses for a super restful sleep.
This Bath & Body Works Aromatherapy SLEEP Lavender & Cedarwood Body Cream ($16, Bath and Body Works) moisturizes skin with vitamin E and shea butter, while an aromatherapy blend of essential oils calms the mind and helps you fall into a deep sleep.
Use this Lush Therapy Organic Neroli And Lavender Bar ($13, LUSH) before bed as the first step in getting a good night's rest. Rub the cocoa and shea butter bar to melt it into your skin, then follow with a relaxing massage. You'll sleep like a baby, hopefully without a nightmare in sight.