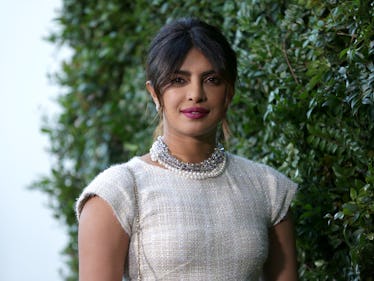 Priyanka Chopra & Her Mom Dished On Their Skincare Routines & You'll Love Their Tips
Rich Fury/Getty Images Entertainment/Getty Images
Indian actress, singer, philanthropist, and film producer Priyanka Chopra's skincare routine is something the actress has been on top of ever since she was a little girl, she recently told Harper's Bazaar for their "Little Black Book" series. And who does she have to thank for that? Apparently, her amazing mom, Madhu.
Of course, Chopra's commitment to her routine definitely explains why she always has a natural glow every time we see the Indian-born beauty on the red carpet, or at a royal wedding. But, of course, now I'm dying to know all of her secrets. Thankfully, both Chopra and her mother spilled a few of those special tidbits with the publication, and the actress even got personal about her beauty journey.
As a teenager, Chopra revealed that she struggled when it came to her self-esteem, adding that she didn't feel confident until later in her 20s. "I was very concerned about how I looked," she said in conversation with her mom. "I didn't feel beautiful."
Thankfully, the actress has come a long way since then and has gained major international success for her craft and noted beauty. But no matter how much acclaim the Quantico star receives, one thing remains the same in her life: using tried-and-true, at-home skincare remedies, passed down through generations.
That said, the mother-daughter duo both shared that organic coconut oil is their go-to when it comes to cleansing their skin and removing makeup. They suggest leaving it on your skin for a few minutes, then using a warm, damp hand towel to gently remove the oil. They say this method works to exfoliate, cleanse, and hydrate all at once — and is perfect for those with dry skin, Chopra added.
Chopra's mom also shared a recipe for an Ubtan face mask, which Madhu has passed down to her daughter. The best part is that it's easy to make, and you'll only need a few ingredients — most of which may already be in your kitchen. To start, take a spoonful of whole wheat flour (it has to be whole wheat, Madhu says, and mom knows best), then add in a pinch of turmeric, a few drops of lime juice, a spoonful of full-cream yogurt, and some rose water. Once it's been whipped into a smooth paste, apply it to your skin and leave on for about 15 minutes. Once the mask has dried, gently rub it off to exfoliate, then rinse with warm water.
If you've got dry lips, Madhu has a simple DIY trick for that as well. She said to just mix rose water and sugar, then rub the mixture on your lips to scrub away any dead skin. Seriously, this woman knows it all.
But this isn't the first time Chopra's shared her beauty secrets with the world. Back in 2015, she sat down with InStyle and revealed what store-bought products she swears by.
"I use the MAC Green Tea face wash and it just takes off everything," she said. "I also like Shiseido makeup remover ($33, Sephora) for my eyes. I love StriVectin eye cream ($69, Ulta) — I think it really works. And then I use the Chanel hydrating cream, and that's magical."
At the time, she also said that regardless of anything that's going on, having healthy skin is paramount.
"I'm really strict with my skincare regimen," Chopra shared. "No matter what's happening in my life, I wash my face every single night and I moisturize — even if it's 4am. It's so ingrained in me, before I even go into the bedroom, I just go straight to the basin and wash up."
Now we know exactly where she learned these great habits from — her gorgeous mom! I guess it's true that mother really does know best.