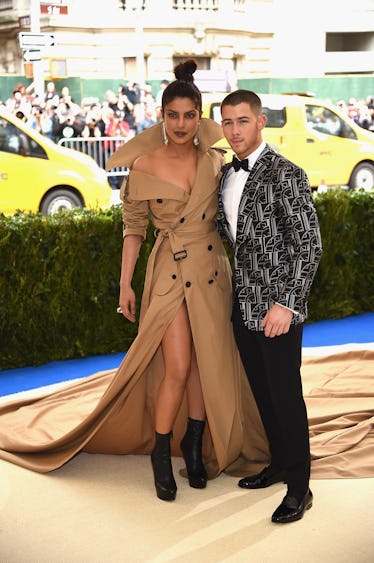 Priyanka Chopra & Nick Jonas' Astrological Compatibility Shows They're A Heavenly Match
Dimitrios Kambouris/Getty Images Entertainment/Getty Images
It looks like things are starting to really heat up between Hollywood's newest rumored celebrity couple, Priyanka Chopra and Nick Jonas. While there has been no "official" confirmation, these two ridiculously hot people being ridiculously hot together sure are acting like it. So, if they're not telling, it looks like were going to have to look to the stars for some insight into Priyanka Chopra and Nick Jonas' astrological compatibility for the answers.
Some quick back story on this alleged duo, in case you haven't been following along: The rumors actually started back in 2017 when the two attended the Met Gala together. When Chopra was later asked about it by Jimmy Kimmel, she downplayed the date as being more about convenience — but she got plenty blushy when Kimmel put her on the spot.
Since then, the two have continuously been spotted out together, including at a performance of Beauty and the Beast Live at the Hollywood Bowl on May 25, followed by an L.A. Dodgers game the very next day. Back-to-back dates! However, the clearest sign that things are getting more serious between these two took place over the June 9 weekend when Chopra accompanied Jonas to his cousin Rachel Tamburelli's wedding in Atlantic City. Meeting the family, perhaps?
So yeah, that's adorable, and of course we're rooting for them! But do these two (if they are in fact a bonafide couple) have what it takes to go the distance? Chopra's July 18 birthday makes her a Cancer (a water sign) and Jonas, a Virgo (Earth sign), was born September 16. Here's what we know about this harmonious pairing.