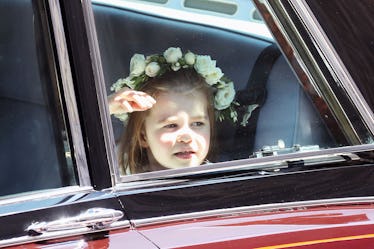 Princess Charlotte Wore A Flower Crown To The Royal Wedding & It's Adorbs
Chris Jackson/Getty Images Entertainment/Getty Images
On Wednesday, May 16, Kensington Palace announced that HRH Princess Charlotte of Cambridge would serve as one of the bridesmaids at her uncle Harry's wedding to Meghan Markle, and the three-year-old princess did not disappoint. Donning a white dress falling slightly below her knees, Princess Charlotte's royal wedding outfit was as adorable as ever, and she performed her bridesmaid duties gracefully, as she does.
The Princess' dress was absolutely adorable, and honestly, she rocked it. Her hair was cut short and worn down, and decorated by an adorable flower crown. Even though Princess Charlotte is, of course, royalty, she fit right in with the rest of the bridal party, which included the goddaughters of both Harry and Meghan, and Ivy Mulroney, daughter of Meghan's BFF, Jessica Mulroney.
The page boys (AKA the groomsmen) also killed it in black, military style suits, including the first royal baby to capture our millennial hearts, Prince George (who is now four years old! Time literally flies). Mulroney's two sons Brian and John were also page boys, as well as Jasper Dyer, Prince Harry's godson. No member of the royal wedding party was above the tender age of seven, so, that must've been a hell of a bachelorette/bachelor party! (Kidding. Can you picture Princess Charlotte ordering monogrammed bathrobes for her new Aunt Meghan? Me neither.)
"Brides in the UK do not usually have as many adult bridesmaids as their U.S. counterparts," designer Stephanie Staub told Brides back in February. "Weddings featuring flower girls and page boys are more common. Generally speaking, UK brides prefer more children within their bridal party, resulting in the most adorable photographs." Fair enough. Pics are important.
Of course, this is far from the first time Princess Charlotte kills it with her fashionable ~lewks~. She was part of the bridal party for her aunt Pippa Middleton's wedding (the Duchess of Cambridge Kate Middleton's younger sister) in May 2017, when she was only two years old. Still killed it, though, in an ivory dress with puffy sleeves and a big, beige bow tied around her waist, by Spanish designer Pepa & Co. Also, a flower crown, because hello? Who doesn't love a good flower crown?
And even though it's safe to say toddlers don't usually have much say in their clothing selections (unless you're like me and insisted on wearing a Cinderella dress everywhere, even to church, it's fine), it seems like the little princess has developed a penchant for collared dresses. Or Duchess Kate has, because Charlotte wears one for most (if not all) of her appearances. Who could forget this red dress she wore in Poland?
And this fabulous blue ensemble she wore in Canada. (Props to Charlotte for pulling this off. When I went to Canada I basically wore a raincoat and sneakers the whole time. She's much more graceful than I was.)
Although Princess Charlotte is undoubtedly fabulous, we also have to remember that she is literally three years old, so it's normal to see the occasional tantrum, like here, right before she got on a helicopter. It's cool though, helicopters can be scary, I feel. Still looked adorbs in that red collared (surprise!) dress though.
And who could forget Charlotte's first day of nursery school? According to OK!, Duchess Kate is a fan of British store Amaia, and opted for this ~iconic~ red coat on Charlotte for her big day. Again, always graceful little Charlotte rocked it.
Her most recent public appearance ahead of the royal wedding was in early May, when she and Prince George rolled up to the Lindo Wing at St. Mary's Hospital in London with their dad Prince William. To meet her new little brother, Prince Louis (pronounced Lew-ee, ICYMI), Charlotte wore another collared dress, this time blue, with a navy cardigan on top. Look at her cheeky wave to the cameras! A celeb in the making.
She clearly has style, and I can't wait to see what looks she rocks as she gets older. If three-year-old Charlotte is any indication, adult Charlotte's style will be classy as can be.
Check out the "Best of Elite Daily" stream in the Bustle App for more stories just like this!