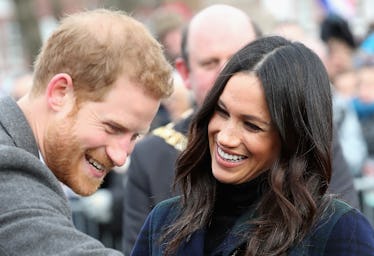 Prince Harry & Meghan Markle Went To 'Hamilton', Because I Wasn't Jealous Enough
Chris Jackson/Getty Images Entertainment/Getty Images
If you are anything like me, then every time you see Prince Harry and Meghan Markle do anything you are automatically overcome with mixed feelings of pure joy and lots of resentment. But this time, they really just tore me apart. As a Valentine's send-off date Prince Harry and Meghan Markle saw Hamilton, because I needed another reason to be jealous. Thanks, guys.
According to E! Online, our new favorite royal couple-to-be spent their first Valentine's Day as an engaged couple visiting Scotland on their first official joint trip. But because they are adorable and better than the rest of us, they decided to send Valentine's Day week out in style by going on a Friday night date to London's West End theater to see the most coveted of Broadway shows right now, Hamilton, reports E! Online. Did I already talk about being really jealous?
The director of the show in the West End even confirmed to E! News that the couple surprised the cast and enjoyed a private visit.
Leslie Garcia Bowman, who plays Charles Lee in the West End's production of Hamilton, tweeted about the royal couple's visit to the show, saying how honored he was to have Prince Harry and Markle at the performance.
I'm torn as to who is luckier....
Hamilton is a great way to celebrate love, but Scotland had its own romantic moments for the couple. Accord to US Magazine, Prince Harry and Markle were greeted by a group of singers in the Great Gallery in the Palace of Holyroodhouse, who serenaded them with Ed Sheeran's "Perfect." Which seems kind of perfect considering that word was given to Entertainment Tonight that the couple had exclusively asked Sheeran to perform at their wedding.
It has not been confirmed whether or not Sheeran will perform when the royal couple ties the knot on May 19 (but we can hope). Entertainment Tonight's royal correspondent said, "Ed Sheeran has yet to confirm but I'm not sure you turn down Prince Harry and Meghan Markle." Is that not some sort of crime?
Sheeran might not have agreed yet, but in December 2017 he joked to Entertainment Tonight, at Jingle Ball, that he would play the ceremony "if [he] was free."
I love how cool Sheeran is playing it. I mean, yeah we know you are super famous yourself but this is royalty we are talking about. Princesses, Sheeran. Princesses.
So let's say that Sheeran is a go. What else can we expect from the royal wedding? According to Us Weekly the service will begin at noon on May 19. at the St. George's Chapel at Windsor Castle. When the ceremony is over the couple will have a carriage procession that will go through Windsor town and return to the castle. Yes, a parade of carriages carrying the couple through the street, like in the movies.
A statement to Us Weekly stated that the procession is in order for the community to be involved in the festivities. "This short journey will provide an opportunity for more people to come together around Windsor," it read. "And to enjoy the atmosphere of this special day."
I can't stop thinking about that scene in Princess Diaries when Anne Hathaway's character is being paraded through the street of Genovia, using her pageant wave and then gathers all the kids from the orphanage and walks with them through the parade. Man, I have to watch that movie again.
Where was I? Oh, yes. After the procession there will be a reception at St. George's Hall. Followed by another reception thrown by Prince Harry and his father, Prince Charles, for very close friends and family.
It will probably be beautiful and epic and make everyone wish they somehow got invited. I am almost excited to get the wedding over with so I can release some of this jealousy and focus on other things, like finding a nice young prince who will court me with Hamilton tickets.