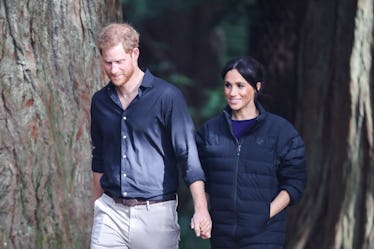 Tuesday Is A Special Day For Harry & Meghan, But Here's Why They'll Spend It Apart
Chris Jackson/Getty Images Entertainment/Getty Images
There are lots of anniversaries within a romantic relationship — especially if you're married. Of course, there's your wedding day. But there's also the day you first met, the day you went on your first date, the day you got engaged and, if you're part of a royal relationship, there's the day the palace announced your engagement. Casual. Unfortunately, this year Prince Harry and Meghan Markle won't celebrate their engagement announcement anniversary together because Harry will be out of the country working in Africa.
Yes, that's right. Time really does fly by. Next week on Nov. 27, it will have officially been an entire year since Harry and Meghan delighted the world with their public engagement announcement. But, rather than being with his now bride on their special day, PEOPLE reports Harry will be attending to business in Zambia. He will be conducting business on behalf of the Commonwealth and meeting with the conservation group African Parks.
Now, of course, of all of the anniversaries for Harry to possibly miss, I think we can all agree it's not the biggest deal in the world for him to skip out on the anniversary of the day they announced their engagement. It's not even the day they actually got engaged! It's the day we found out about their engagement and they suddenly became the most talked about couple on the planet. If anything, it's more of a holiday for us than it is to them. So, yeah, I think it's safe to assume Meghan's probably not too hurt that her husband is away on this special day.
And Harry isn't going just anywhere during their special day. He's going to Africa, also known as the place the two fell in love early on in their relationship.
"And then it was I think about three, maybe four weeks later that I managed to persuade her to come and join me in Botswana," Prince Harry said during their engagement interview. "And we camped out with each other under the stars, we spent — she came and joined me for five days out there, which was absolutely fantastic."
Even if he's not directly with his wife, I'm sure being under the African stars will remind him of her. Additionally, PEOPLE notes that he'll be doing some work that he knows his wife would be proud of. What's this special work, you ask? Well, he's meeting with the organization CAMFED that empowers and educates young women as a means of combatting poverty and inequality in sub-Saharan Africa. PEOPLE reports the issue is close to Meghan's heart and "one she will make a central part of her public work."
So, to recap everything we've learned here, Harry will be gone for the anniversary of the day his engagement to Meghan was announced. But it's really not a big deal because, for starters, an engagement announcement anniversary is really more of a big deal for the public than it is for them and he'll be spending the day doing work that would make his wife proud. Yay for them!