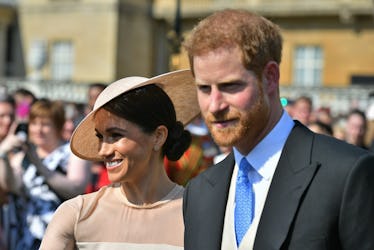 This Is Where Harry & Meghan Will Reportedly Honeymoon & It's So Gorgeously Rustic
WPA Pool/Getty Images Entertainment/Getty Images
The royal wedding is over and done, but the public's obsession with the newest member of the royal family has only just begun. The Duchess of Sussex, Meghan Markle, aka Maggie Sussex, can do no wrong right now. Both the UK public and fans in North America want to know every detail of her post-wedding life, including where the honeymoon is happening. Rumors run rampant as to where the couple will head after their nuptials. The latest rumor suggests it's nowhere near where prognosticators expected. Prince Harry and Meghan Markle's honeymoon spot might be here, across the pond from the UK, deep in Canada.
According to Canada's National Post, this "royal retreat" in Alberta's Fairmont Jasper Park Lodge is one used by the royal family before. Queen Elizabeth II has stayed here twice, once in 1939 as a kid when her father George VI was still King and then again more recently in 2005 with Prince Philip.
Described as having "six bedrooms, two fireplaces, a veranda and a conservatory", other major figures who have stayed there are "Bill Gates, Anthony Hopkins, and John Travolta."
But here's the thing: According to TMZ, who broke the news, the couple hasn't actually left to go there yet. They will travel there "at an undetermined date." So is this real? Or is this just rumor?
First, the evidence they're staying there is kind of slim. TMZ's reasoning behind the claim this is the honeymoon spot is "the resort ordered some gear and goodies it doesn't normally keep on hand." Now they could be doing it for the royal couple. Or they could be doing it for half a hundred reasons which have nothing to do with royal guests.
Moreover, does TMZ really have the inside track after they spent the entire week leading up to the royal wedding embarrassing the heck out of Meghan? TMZ all but got into bed with the less savory part of her family, keeping Kensington Palace on lockdown as story after story about Thomas Markle rolled out leaving fans wondering "will he or won't he" walk her down the aisle. The upshot is Thomas Markle didn't walk anyone down any aisles. Older sister Samantha Markle, who was reportedly encouraging TMZ, was cut from commentary in order not to piss off the Palace.
Now TMZ could have the right end of the stick here. Harry and Maggie Sussex may plan to stay over in Canada. Markle has embraced it as a second home, having spent years working and living in Toronto. She even favors Canadian designers.
But if they're heading there, they don't have much time. The two of them definitely has to be back in the UK by Saturday, June 9, because that's the "Trooping the Colour" parade marking Queen Elizabeth II's 92nd birthday. All of the royal family will be expected to attend.
Consider also much of what has been rumored about the couple has turned out to be either dead wrong or misdirection. For example, nearly everyone bought into the idea Meghan would wear Ralph & Russo as her ceremony gown for the wedding. There were other designers mentioned but no one seriously considered Givenchy or Clare Waight Keller.
If everyone is looking to Alberta for the couple's honeymoon, then they can easily slip out and head to Dublin, as the Irish Independent is claiming, or even go completely in the other direction to Namibia, as originally rumored. They could even go to Botswana, which is such an important place to the both of them, considering their relationship history.
But if they really are headed to Canada, it looks like the two of them couldn't have picked a lovelier spot for it.