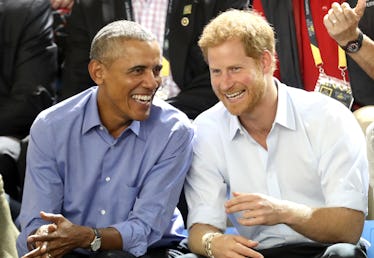 Prince Harry & Barack Obama Are Hanging Out Later This Month, So Prepare For BFF Goals
Chris Jackson/Getty Images Entertainment/Getty Images
You guys, put your Halloweentown marathon on hold for a moment, and get ready to pencil in another very important event on Oct. 31. Your favorite British-American power besties are preparing to reunite this month in Chicago. That's right, Prince Harry is going to Obama's Foundation Summit, and I have a feeling these two will pick up right were they left off at the Invictus Games.
You might remember seeing pictures of former President Barack Obama and Prince Harry sharing laughs and cheering on wounded military personnel and veterans as they competed in the Invictus Games in Toronto last month. The two looked like they had inside jokes for days. For those who might have thought the smiles were just for the cameras, it appears to have been a genuine friendship since the Obamas extended an invitation to Prince Harry to speak at the inaugural Obama Foundation Summit in Chicago. Yesterday, according to Cosmopolitan, the Kensington Palace Twitter page confirmed Prince Harry's acceptance of the invitation.
Obama announced the Summit for the Obama Foundation last month, and the event's website describes it as "a two-day immersive event in Chicago." The site goes on to explain:
During this inaugural Summit, hundreds of leaders from around the world will come together to exchange ideas, explore creative solutions to common problems, and experience civic art, technology, and music from around the world.
OK, so the Summit sounds pretty freaking cool, but it doesn't hurt that we'll be getting more candid photos from this court-side pair.
C'mon, look at those two. If this photo doesn't immediately bring a smile to your face, then I don't know what will.
So, what will the attendees have in store when Prince Harry takes the stage? According to Cosmopolitan, a press release from Kensington Palace stated that Prince Harry's topic will be focused around finding "ways to support and encourage youth leadership to tackle both local and global challenges." It sounds like it has the potential to be a very engaging discussion, not to mention, a very important and necessary one to have as well.
If you're wondering how to get a chance to hear Prince Harry speak, the spots have unfortunately been filled. According to CNBC, applicants had to apply by Sept. 27. Those who were chosen were selected because they've had positive impacts on their communities, and they also had to show that they would bring their "unique perspective" to share with the other attendees of the Summit.
You're not totally out of luck when it comes to getting a glimpse of the Summit, though. According to the Obama Foundation Summit website, you can sign up here to stay up-do-date with the latest Summit news, get the livestream schedule, and potentially participate in a virtual capacity. Um, I'll totally settle for a pixelated Prince Harry over no Prince Harry at all.
Even though the Royal representative might be the headliner, there are many other presenters who will lead discussions at the Summit, and there is a cool finale call the "Community Event," according to the Summit website. Just to make sure the star power is in full force, Chance the Rapper is working on the creative design of the event, and the concert will even be available via livestream.
Let's not forget about the other (dare I say, better) halves of this duo. Former First Lady Michelle Obama also helped launch the Obama Foundation back in 2014 and its inaugural Summit taking place this month. Prince Harry's girlfriend, Meghan Markle, is no stranger to Chicago — considering she graduated from Northwestern University, which is located just outside the city — in 2003. There is no word on whether Markle will be attending the Summit as well, but if she does, she'll likely be right at home in the city.
I'm seriously hoping they all attend the Summit on what would be the coolest double-date ever, but if they don't, at least we know we'll get those classic Obama and Prince Harry photos of the pair just cracking each other up.
Check out the entire Gen Why series and other videos on Facebook and the Bustle app across Apple TV, Roku, and Amazon Fire TV.