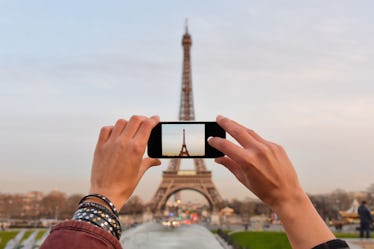 You Can Get To Europe For $69 With This Major Primera Air Sale
Stocksy/Bisual Studio
Summer is quickly winding down, which means that it's pretty much now or never when it comes to booking that summer getaway you've been dreaming about for months. Did you pass up all the big flight sales of the summer, only to have wanderlust hit you hard and make you feel like maybe you'll bite the bullet of a higher price on your airfare? Fear not, spontaneous travelers, because Primera Air's last minute sale can get you to Europe for $69. Yes, this is real, and you should totally take advantage of these incredible savings while they last.
It turns out that good things really do come to those who wait, because Primera Air's summer flight sale is perfect for last-minute travelers who have a habit of booking a vacation on a whim and are ready to head out on their upcoming adventure with just a few weeks' notice. Thanks to the budget airline, one-way travel from East Coast hubs to London or Paris can set you back less than $100, and these might be the best rock-bottom deals of the summer you're going to encounter. Considering that travel is limited between July 12 to Sept. 30, aka the most popular time of the year to travel to Europe, I think it's safe to say you're definitely not going to get a better deal for a summertime getaway.
According to the website, flights from Newark, Boston, or Washington D.C. to London or from Newark or Boston to Paris are included in the sale. Airfare from New York to London's Stansted Airport or Paris' Charles De Gaulle Airport is advertised as starting at $69, which is basically the cost of two evenings out on the town, or maybe even one nice dinner with a few cocktails. That, plus the fact that all travelers are allowed one carry on and one small item for free, makes this a decent deal. The point is, there's no excuse not to book that trip across the pond to the City of Love and channel Carrie Bradshaw when she sees the Eiffel Tower.
The other great thing about these two locations are that they are central flight hubs in Europe and just a hop and a skip away from other major cities. Paris' Charles De Gaulle Airport is the second largest airport in Europe, while I noticed that London's Stansted Airport offers connecting flights with a lot of budget airlines. After flying into Paris or London, I've booked trips for less than $50 to Madrid, Dublin, Amsterdam, and Rome using EasyJet or RyanAir. The best thing about Europe is how close you are to everything — and how cheap and effortless travel can be once you're there. With prices like Primera Air's summer flight sale, why not spend the rest of your budget partying in Barcelona or roaming the Irish countryside?
Unfortunately, with great deals comes a few caveats. As I mentioned before, these deals are only available from July 12 to Sept. 30, so you should probably start drafting that "OOO" email right away. In addition, return flights back on Primera are significantly more expensive than your flight there (they're all under $500), though you can still score a great price on your ticket if you're flexible on your travel dates. I'd recommend shopping the return prices and comparing them to other airlines to be sure you're getting the best round-trip deal possible. In addition, checking a bag will cost you, so prepare by purchasing it online in advance if you know you want to bring back a lot of souvenirs. A 50-pound checked bag will ring in at $44.99 if you buy it online beforehand, and $90 if bought at the airport.
Unsurprisingly, these discounted tickets from Primera Air are going very fast, so you're going to want to act quickly if you want to start living your best jet-set life on the cheap in just a few weeks time. I don't know about you, but I'll say "Oui, oui" to that.