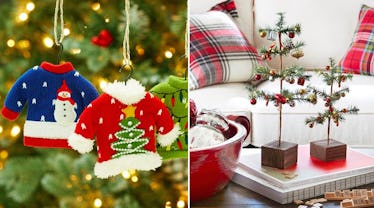 Pottery Barn's Holiday Decorations Are Officially Here To Make Your Space Merry & Bright
When I think of a picture-perfect home for the holidays, I imagine every inch is covered in fairy lights, festive throw pillows, wreaths, felt snowmen, and glittery bows. My ideal home would make me feel like I instantly stepped into a winter wonderland every time I walked inside. And even though it's still November, it's never too early to get into the holiday spirit. If you're looking to give your box of decorations a major upgrade this year, Pottery Barn's holiday decorations for 2018 are officially here, and you'll definitely want to add them to your wish list, like right now.
For many of us, holiday decor is no joke. The more decorations there are, the merrier. I personally love spending time with my family and friends decorating the house, while drinking hot cocoa and watching The Santa Clause. I'm all about decking the halls with the kind of decorations that make me feel like I stepped foot in the North Pole. If you're in the same boat (or shall I say, sleigh) as me, you need to check out the best of the best at Pottery Barn. You can find anything you're looking for, and more. So, stop and smell the fresh pine needles, because it's time to decorate for the holiday season.