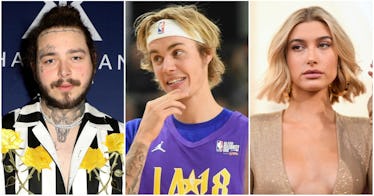 Post Malone Wants To Be Part Of Justin Bieber & Hailey Baldwin's Wedding In A Surprising Role
Roger Kisby/Jayne Kamin-Oncea/Matt Winkelmeyer/Getty Images
I don't know about you, but I am living for all of the details that are coming out about Justin Bieber and Hailey Baldwin's nuptials. I ship these two hard, and hearing about all of their wedding day details makes me super excited. What I really want to know most is their bridal party — who will be by their side while they're up at the altar? While we do know that Hailey reportedly asked a few family members to be her bridesmaids (more on that later), we don't know all of the details just yet, and I'll be anxiously awaiting the entire list of who to expect to walk down the aisle at their ceremony. But we also do know that good friend Post Malone's dream role in Justin Bieber and Hailey Baldwin's wedding is unexpectedly hilarious, and would involve him being a pretty key element in the wedding day proceedings.
Rapper Post Malone and Justin Bieber are pretty good friends, so it makes sense that Post Malone would hope to be included in his buddy's wedding day. But his request for a particular duty is pretty... interesting.
According to TMZ, Post Malone doesn't want to just be a groomsman at Bieber's wedding, or even just a performer. Nope. Instead, he would like to be the ring bearer or the flower boy.
When leaving a restaurant in West Hollywood, California, Post Malone told TMZ that he'd perform at Bieber and Baldwin's wedding for free if he can play his requested role at the ceremony.
"I would love to perform," Post Malone told the TMZ reporter about playing at his friend's wedding. When asked if he'd do it for free, he said, "F*ck yeah, for free! I'll be the flower boy. Is that a thing? Or is that the ring bearer?"
Clearly, you can tell that he's kidding around... but hey, you never know. I feel like Post Malone might fool us all and be the best damn ring bearer this world has ever seen.
When asked if he thought that this "was it" for Bieber, meaning if Hailey Baldwin truly is The One, his response was actually super sweet. He said:
He's very happy and I love to see my boy happy. That's what's important to me.
What a good friend!
The verdict is still out on whether or not Post Malone will actually be in the wedding party, but according to an interview with Kim Basinger (Hailey Baldwin's aunt) for Us Weekly, Baldwin has asked her sister and her cousin to be her bridesmaids. Basinger, who is mother to Baldwin's cousin, Ireland Baldwin, told the outlet:
Oh, it'll be fun. Alaia and Ireland, they're in the wedding ... It's cool! I think it's sweet. It's a very sweet thing. Happiness. We're living in some really dire times right now. I'm very, very happy for Hailey.
She continued, telling the source, that she thinks the engagement is "a good thing," adding, "I think Justin's a cool guy. I don't really know him at all, but Ireland does, you know? I think he's come through a rough road. He's a really cool kid. I pray for them. I hope they're cool. I hope they're happy!"
Honestly, we hope they're happy too. And we hope that their wedding is everything they'd ever dreamed of — with or without a flower boy.