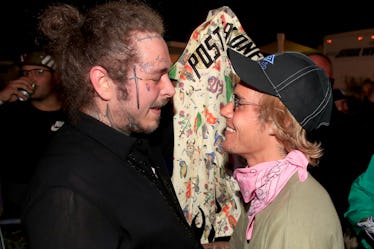 Here's How Justin Bieber Inspired Post Malone's First Tattoo & The Rest Is History
Christopher Polk/Getty Images Entertainment/Getty Images
Post Malone's got a tattoo or two (or 40). The rapper/singer appeared on The Tonight Show on Oct. 1 and told Jimmy Fallon all about his tattoos, which basically started out with him overcoming a fear of getting one and then snowballing into getting tattoos under his eyes that read "always tired." The inspiration behind the tattoo that started it all? Justin Bieber. I wish I was kidding. Post Malone's comments about Justin Bieber inspiring his first tattoo are... unexpected, but not entirely surprising.
"We were working on Stoney," he said. "We had a tattoo artist come through, and then I was just like, 'You know what? Justin Bieber's got some tats. And, I love you, but I know I'm way tougher than you.'" And that's how Post Malone's first tattoo was born: proving he was tougher than Justin Bieber.
"So, I was always so scared to get one, and then I got one," he continued, also revealing that he played basketball with the Biebs just two days later. Bieber wasn't present when Post Malone (whose real name is Austin Post) got the Playboy bunny tattoo (original), saying he really doesn't know why he chose the bunny. But two days later when he was playing basketball with the Biebs, Bieber apparently hit the rapper's still healing tattoo and made it bleed. "He knocked the whole thing off, and it was just blood dripping down my hand," he said laughing, "It kind of looks like my tattoo got dropped in lava." Oops?
FYI: Post Malone temporary tattoos now exist, so now you can have the "always tired" tattoos under your eyes, sans the commitment. What a dream.
Bieber and Post Malone have been hanging out for a while now, so it's no surprise Bieber was around for the beginning of Post Malone's tattoo era.
The first time they posted a photo together was back in March 2016.
Malone ended up being picked by Bieber to be the opening artist for his Purpose tour. Flash-forward to the summer of 2018 and Malone was put in charge of planning Bieber's bachelor party after he got engaged to Hailey Baldwin.
"We're gonna have a nice little f*cking party, and we're going to have a great time," the rapper told paparazzi in August. "It's gonna be fun. We're gonna do some fishing, hanging out." Unless that bachelor party already happened, Post Malone might've missed his chance to throw it, considering Justin Bieber referred to Hailey Baldwin as his wife recently.
Bieber and Baldwin were rumored to have gotten married on Sept. 13 at a courthouse in New York City, but Baldwin denied the rumors on Twitter. During a visit to the Stratford Perth Museum in Ontario, Canada, on Sept. 30, however, Bieber reportedly introduced Baldwin as his wife to the people they spoke to. The museum revealed on its Instagram post about the couple's visit that "Justin very graciously introduced Hailey as his wife."
The museum posted a note Baldwin wrote to its Instagram page on Oct. 1.
The post is captioned, "'I ❤️you forever-Hailey B'. We were so pleased to have such a warm and special guest visit the museum yesterday (along with her very special husband)." Husband and wife, you say? Interestingggg. Post Malone might want to get on that whole party planning thing. Maybe they can all get matching tattoos?